LGBT students at Arkansas's Harding University have produced an online zine detailing their experiences and the discrimination they've faced. Unfortunately, the university promptly blocked students from accessing it.
The zine, called The State of The Gay, includes the first-person stories of LGBT students and alums, many of which chronicle their efforts to come to terms with their sexuality within a deeply homophobic culture at Harding. One student's contribution describes a therapy session at the school where he was told that "every time I am attracted or want to look at another guy I would have to say, 'No. I am a heterosexual and I do not have those desires. They are not natural.' I would completely have to capture my thoughts, deny them, and never intend to pursue or continue these thoughts." The same student also quotes course materials from a Harding class called "Help For Relationships: Mate selection, marriage, family building, and counseling," which state that male homosexuality is caused by insufficient bonding with a father figure, and that dads need to wrestle with their sons and prevent "that super bond with mom" in order to make sure boys grow up straight.
Another student wrote,
Aside from feeling completely unsafe and full of anxiety at Harding because of being gay, perhaps what hurt the most in terms of being able to (safely, confidently) grapple with questions of God and spirituality was Harding's/the Church's/authors'/teachers' construction of homosexuality as a "struggle" of same-sex attraction/desire. And what I mean by that is this: my identity as a gay man is not a "struggle" of desire or attraction, and I certainly don't need YOU to try and convince me that it is.
Other students called for "a group that is inclusive of all LGBTQ people" and simply "people who aren't afraid to say that they'll love us no matter what." Instead, according to the Arkansas Blog at the Arkansas Times, the university blocked students' access to the zine soon after it went online. A message stated that the site was forbidden "due to objectionable content."
According to the university's website, "Harding's mission is to provide a quality education that will lead to an understanding and philosophy of life consistent with Christian ideals." These ideals include "stressing a lifelong commitment to marriage and the Christian family." However, they also include "an emphasis on liberty and justice," both of which seem to be violated by what one State of the Gay contributor calls Harding's "view of queer as broken" — and by the university's refusal to allow LGBT students to be heard. We've contacted Harding for comment on their decision to block the zine, and we await what they have to say. In the meantime, here's one student's plea:
We need to allow all LGBTQ people to have a voice and the freedom to be honest about who they are. Until this happens, Harding will not be safe for all its students.
G/O Media may get a commission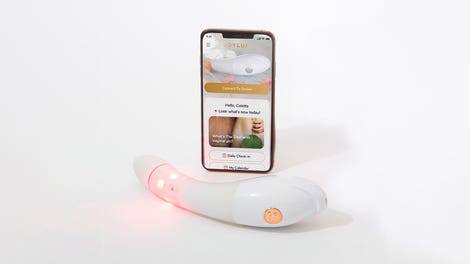 $50 Off
Joylux vFit Gold Device
God And Gays At Harding University [Arkansas Times]
The State Of The Gay [Harding University Queer Press]