A City Council member in Fayetteville, Arkansas says he won't resign over an incident where he reportedly demanded to know whether a restaurant server was male or female. A Facebook post claims City Councilor John LaTour also offered to show his penis to the server, to prove that he himself is male.
LaTour, a CPA, represents Fayetteville's Ward 4; a Facebook post Saturday by a local man named Gavin Smith accused him of accosting a friend of Smith's, a server at a local restaurant:
Yesterday fayetteville alderman John la tour ward 4 assaulted a dear friend in public demanding they choose a gender in a packed restaurant. He demanded she pick a gender declaiming loudly that he couldn't tell if she was a man or a woman. She is not transgendered and does not in any way present any ambiguity about gender in any way. She's a woman. He then explained that he was a man and could prove it by dropping his pants and showing his penis. That is bullying behavior and unacceptable on so many levels. Please call any news outlets you know and alert them to his "protests". I doubt offering to expose yourself would be considered protected speech even by the right wing activist Dugger family who funded his campaign. He should be kicked out of office.
LaTour confirmed to the Arkansas Democrat-Gazette that he'd asked an employee at Arasaga's restaurant Friday morning what gender she is, but insisted he'd done so for great reasons: because he wanted to ask her to dance and wanted to make sure she wasn't a man.
"You can declare you're a man or you're a woman, whatever you want to," LaTour told the paper. "I'm not going to ask a man to dance with me."
G/O Media may get a commission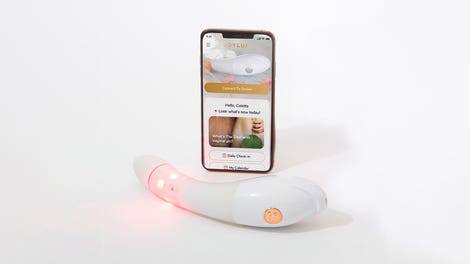 $50 Off
Joylux vFit Gold Device
LaTour was, it turns out, referring to the city's Uniform Civil Rights Protection law, which passed in June of last year and which prohibits discrimination based on sexual orientation or gender identity. Here John LaTour is, fulminating against the law in a YouTube video, the last refuge of very reasonable people:
LaTour, naturally, still feels personally oppressed by the law to this day, telling the Democrat-Gazette, "[W]e live under an ordinance which lets me choose my gender based on how I feel that day."
LaTour also told the paper that he'd followed up his query by telling the woman, "I am a man and I can prove it."
"They just took it exactly the wrong way," he added, telling the paper he will "never resign." He later told the Arkansas Times that he would've proved he was a man with his birth certificate, not with a public display of his penis. More than 2,500 people have signed a petition calling on LaTour to resign, which, again, he won't be doing.
Cary Arsaga, the restaurant owner, said he wasn't present for the incident, but spoke with LaTour privately. Sometime after that discussion, LaTour wrote and deleted a Facebook post vowing to never return to Arsaga's and encouraging others to boycott the restaurant as well. That one's been deleted, replaced with a statement from LaTour wishing Arsaga well:
I have often stated that the best economic development plan we can have as a City is to get out of the way and let entrepreneurs chase their dreams. I stand by this statement. Cary Arsaga is one of those entrepreneurs. I am glad to cheer him on, and I wish him well.
The server hasn't spoken out publicly; Arsaga told the local media outlets she is "mortified" by the incident.
---
John LaTour. Screenshot via YouTube/Protect Fayetteville. Big Time Small-Time Dicks logo by staff male Bobby Finger