According to this video from a woman whose name I believe is "Erica in the House," the latest trend in photo-documentation isn't merely the highly-contentious selfie, but a far more intimate peek inside someone's soul: behold "The Shelfie."

"People are styling amazing bookcases—me included—for their homes, and taking amazing pictures to share," Erica in the House explains, going on to add that "everybody's inspired" by said snaps. Since I'm not presently in my house, I thought I'd see if the Jezebel shelf was "shelfie" ready.
I soon learned it was not.

"I always say, start with your books," Erica in the House advises. She recommends stacking the books in different ways—something we'd accomplished, though perhaps not how she'd have liked us to. Our office look is a little more haphazard than planned.
Next, Erica in the House recommends sticking with a color scheme. Again, we accidentally have a lot of pinks and reds on our shelf, but that's only because we accidentally have vaginas.
G/O Media may get a commission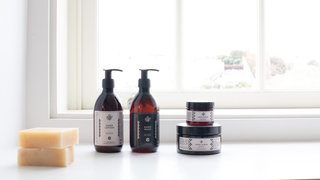 Exfoliate and Hydrate
The Handmade Soap Company
"Stagger the placement, switching from right to left on each shelf," Erica in the House says. Done!
"Next up, decorative objects." I think we can all agree the paper flower up top, leftover from a crafting session with Aidy Bryant, fits the bill.
"Try using some metallics," Erica in the House recommends. Hmm. Moving on...
"Anything can be artwork," she explains, and recommends adding paintings and photographs to your bookshelf. Anything can be artwork! Especially the cookies on the top left that Bobby brought in with a nice new set of TupperWare he considers "one of his best purchases ever."
Lastly, "include nature," Erica in the House says. Nothing more natural than some expired beer!

Now I put it to you: do you shelfie? And if so, are yours better than this?