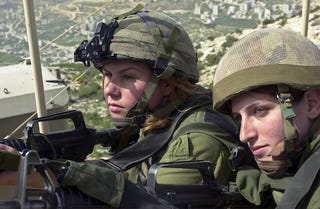 A recent CNN report on women's substantial participation in the Israeli army had one U.S. servicewoman feeling somewhat envious. "Maybe I should've been a soldier in Israel's army," she wrote. Is she right? And is it a fair comparison?
Catherine Ross, blogging at The New York Times's Home Fires, served in Civil Affairs in Iraq. She notes that "While it may be a D.O.D. policy to keep women out of combat, the reality doesn't match the policy," and looks to Israel, where it was decreed a decade ago that "the right of women to serve in any role in the [Israeli Defense Forces] is equal to the right of men." In practice, that means women can be deployed to about 90 percent of IDF positions, according to the Ministry of Foreign Affairs.
Women have been active participants in the IDF since before the state was established, and currently make up about a third of the force. In theory, army service is compulsory for all Israelis — two years for women, three for men — but there are certain exemptions, including for being religious or for married women.
Here's the CNN report:
There are some crucial differences between the two country's experiences: Israel's army conscripts so widely because it has to in order to survive; the U.S. has a voluntary army. Accordingly, military life is both woven into the fabric of daily life for both men and women, and seen as a patriotic duty. Those who evade it — the ultra-Orthodox, Bar Refaeli — are pilloried. Supermodel Refaeli's wriggling out of her service for what's widely seen in Israel as a sham marriage continues to roil Israel — one general even suggested boycotting the products she endorses. Meanwhile, fellow Sports Illustrated Swimsuit Edition mode Esti Ginzburg (pictured) very pointedly joined, taking on a public relations-like role.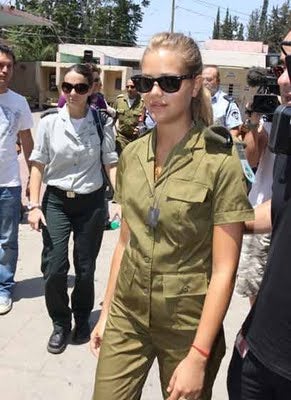 The consciousness of an existential threat creates a social pressure, where doing one's part becomes more important than gender. The same logic applies to the acceptance of gays and lesbians, who have served openly in Israel for almost two decades.
Israel's ultra-religious, down to the army's chief rabbi still oppose women in combat, and sometimes women in the army in general. Women still only make up 3.5 percent of combat roles, but if they qualify and volunteer, there's nothing to stop them.
And so far, no one credibly argues the Israeli army is the worse for it.

Esti Ginsberg, Model Soldier [Forward]
Israel's Women Soldiers [CNN]
Women's Work [NYT]
IDF's Chief Rabbi Says Women Shouldn't Serve [Haaretz]
Israel's Female Soldiers Face Military Inspections [Women's E-News]