This year, the Graphics Interchange Format turned 25. It's been quite a year for the humble GIF: voted Word of the Year by the Oxford University Press (which said the humble viral image format has "evolved from a medium for pop-cultural memes into a tool with serious applications including research and journalism"), the GIF is also the subject of a new exhibition investigating its potential as an artistic medium.
Tumblr and Paddle8, the online auction house, put out the call earlier this year for submissions to an exhibition examining the GIF as an art form upon its 25th anniversary. Called Moving The Still, the public submissions — some from photographers and professional image-makers, some from random teenagers, some from people who remained completely anonymous — were reviewed by Michael Stipe, Ryan Trecartin, Kate and Laura Mulleavy of Rodarte, James Frey, RoseLee Goldberg, Richard Phillips, Nicola Formichetti, and Inez van Lamsweerde and Vinoodh Matadin. Each of those people selected GIFs for display at the show, which took place in Miami, and made at least one GIF of their own. Invited artists also contributed GIFs.
Walking around the show was an interesting experience. I got a guided tour from my friend Annie Werner, who works for Tumblr. She explained that some of the GIFs on display are impossible to see on the exhibition Web site, including a mesmerizing GIF called Endeavour by Nick Poe, comprised of found video footage of the space shuttle Endeavour's final flight on the back of a 747. It is thousands of frames long. "That would have crashed the Tumblr," Werner said. I shot a quick video at the exhibition; you can see part of the space shuttle GIF starting at 0:30. The GIF Rodarte made, of a model tossing her hair from side to side — which I particularly liked — is at 1:07.
The show was held inside a dark, empty soundstage the size of an airplane hangar. "When we first came to see this space, they were filming Iron Man 2 here," said Werner. In the center, GIFs looped infinitely, projected on the walls. People moved through the space in the sort of attitude of reverent quiet that most people employ in the vicinity of contemporary art.
G/O Media may get a commission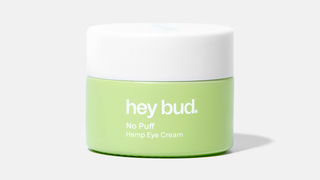 15% off
Hey Bud - No Puff Hemp Eye Cream
Exhibiting artist Erdal Inci contributed Self in Galata, which was chosen for the show by RoseLee Goldberg.
Are GIFs art? Maybe the throwaway popcorn-popping, Lochte-flexing, ANTM-reaction-shot GIFs that temporarily alleviate the tedium of Internet life for so many of us more or less every day are not (although that is not to say they are of no value). But if it's obvious that not every GIF is art, it's equally obvious that GIFs can be art. On the walls of that space, GIF art didn't seem so different from video art. The question of how art native to the Internet will move into the physical realm is still very much an open one — equally unanswered are the attendant questions of how it will be dealt and sold — but I liked the wit and beauty on display in many of the GIF offerings.
Oh, and by the way, because I was wondering, too: the creator of the first GIF, a CompuServe engineer named Steve Wilhite, pronounces "GIF" with a "g" like in "gin." But he says it's okay to say it with a hard "g," too.