A new investigation from the Associated Press says that officials at the Pentagon deliberately misled Congress about the number of military sexual assault cases and how they're being handled. The AP says the Pentagon used "inaccurate or vague information" to convince Congress not to pass a law giving more power to civilian courts to handle military cases.

The controversy here centers around a bill introduced by Senator Kirsten Gillibrand, the Military Justice Improvement Act, which she's been trying to get passed since 2013. The bill has died twice on the Senate floor; one of the main sticking points is that it would change the current system in which military commanders have the sole authority to decide which cases goes to trial.
Gillibrand's office calls that a clear conflict of interest, saying that subordinate officers don't want to report sexual assaults to their commanders for fear of retaliation:
Repeated testimony from survivors and former commanders says the widespread reluctance on the part of survivors to come forward and report is due to the bias and inherent conflicts of interest posed by the military chain of command's current sole decision-making power over whether cases move forward to a trial.
Since Gillibrand's legislation was introduced, the Pentagon has sought to argue that not only is the military tough on sexual assault, it's tougher than civilian courts. The AP investigation says the military bolstered that claim using misleading or incomplete information about 93 sexual assault cases.
Navy Adm. James Winnefeld told a Senate panel, in fact, that passing the legislation would lead to fewer sexual assault cases being prosecuted. From the AP:
Winnefeld told the Senate Armed Services Committee in July 2013 that there were 93 sexual assault cases that military commanders insisted on taking after civilian authorities said no. Of the cases that had gone to trial at the time, more than half ended with a conviction, he said.

"I worry that if we turn this over to somebody else, whether it is a civilian DA or a nonentity in the military, that they are going to make the same kind of decisions that those civilian prosecutors made," said Winnefeld, who was the nation's second highest ranking military officer at the time. "I worry that we are going to have fewer prosecutions if we take it outside the chain of command."
G/O Media may get a commission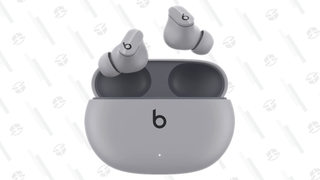 Protect Our Defenders, an advocacy group which fights military rape and which supports Gillibrand's legislation, FOIAed information about those 93 cases. They shared it with the AP, who found that military commanders hadn't, in fact, "insisted" on taking cases:
But there's no indication in the records of any direct intervention by commanders in the 93 cases or others listed in the documents. Each appears to have followed the steps mandated by the military's legal code: Senior officers cannot refer cases to a general court-martial unless uniformed attorneys known as staff judge advocates have first advised them that the evidence warrants the charges. So the argument that excluding commanders from the decision to prosecute will mean less justice for victims is a flawed one, according to proponents of Gillibrand's bill.

"Charges should not be sent to trial to set an example or show a commander is tough," said Christensen, the president of Protect Our Defenders.
Here's a clip of Winnefeld talking about some of those cases, making the claim that military commanders frequently achieve court martials in military courts against perpetrators, ones that civilian courts wouldn't touch.
---
Navy Adm. James Winnefeld testifying in 2013. Screenshot via YouTube/AP