Look around, make a sound… There's overpriced stuff to be found!
Forgive me if I revert to a 16-year-old Valley Girl version of myself, but ohmigawd, grody. This is soap wrapped in felt. My bathroom pet peeve is hair on soap. SOAP, BY DEFINITION, SHOULD BE CLEAN. If there's pube hair on your Lever 2000, your shower is VOID. Ew ew ew.
The sweater seems nice and all, but my lust is reserved for that Clothbound Penguin Classic version of Sense and Sensibility. Actually, my favorite designs in the series are the chandelier-covered Great Expectations and the peacock-feathered Picture Of Dorian Gray. You have Coralie Bickford-Smith to thank for the exquisite patterns.
G/O Media may get a commission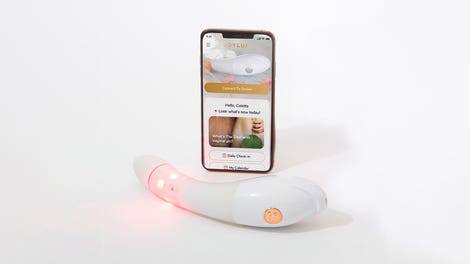 $50 Off
Joylux vFit Gold Device
This "message in a bottle" thingy is $16 for a little glass jar and some blank paper. Blink. Blink.

Is the "in-the-clouds scarf" pretty, in a shabby chic/grandma's attic kind of way? Yes. Is it $168 pretty? No.
Someone's been in the Ugly Betty wardrobe department.
My problem with Shabby Chic is my same problem with Olsen twins chic. It's not hip to be homeless, so why is it hip to LOOK homeless? Derelicte your own balls.
The "noble lore" blouse is probably cute and Blair Waldorf-esque, but the "hazy" photo treatment makes it hard to tell. It's worse than the time they shot shit underwater, because it makes me feel like I have glaucoma.
If I have one gift, it's the uncanny ability to look at a page of items and only like the most expensive thing pictured. In this case it's the "Enveloped Petals Cardigan," ringing up at $248 — the Upended Poppy tee is $68; the In-A-Moment dress is $118 and the Waltzing Daphne blouse is $98.
"He said he was a painter… He asked me if I wanted to get plastered… I didn't know it he painted walls… Still, he made me feel dizzy and weak in the knees! Or was it the fumes? All I know is I haven't spackled like that in a long time."
Excellent things about this shot:
1. Eyebrows
2. Eyes
3. Masculine/feminine combo of blazer and lace
Terrible things:
1. Blazer wouldn't look good on me/fit my rack
2. Doesn't come in my size anyway
AAAAAHHHH my eyes! Make it stop.
More lovely books. The striped "Saturation Point" heels are cute, too: $88.
She is humming "Smoke Gets In Your Eyes." Mark my words.
The "Great Heights Shift," $148: Cute or corny? As a city girl, I'm a sucker for a skyline.
Oh, Anthro. This always happens. I hate you, then you do something sweet — like pairing a girl "For Flora Skirt" ($168) and pindot tights ($18) with retro "Carved Celadon" heels ($168). Le sigh.
Anthropologie [Official Site]
Earlier: Man Shops Globe: The World Is Your Boho Bazaar
Man Shops Globe: The World Is Your Boho Bazaar
Anthropologie: Sartorialist-ic "Real" People Impossibly Pretty, Well-Dressed
May Anthropologie Catalog: Totally Watered Down
Anthropologie "Adorned": Critters & Kids Steal The Spotlight From Bags & Baubles
Anthropologie "Revival": TV-Ready Fall Fashion
Pottery Barn, Anthropologie & West Elm: Bedding Porn For Sleepyheads
CB2, Anthropologie & Delia's: More Bedding Porn For SleepyHeads
Please Do Not Look The Anthropologie Model In The Eye
Anthropologie "Vignettes": Forcing Us To Look Forward To Fall
Anthropologie "Giving": We Love To Hate & Hate To Love It
Urban Outfitters, Free People & Anthropologie: What's The Difference?
Anthropologie Doesn't Care About Black People
Related: Fetchdog, Drs Fosters & Smith: Howliday Humiliation For Dogs & Cats
Dear Santa: Have You Seen The December J. Crew?
Barneys: Wooing With Witticisms & Wallet-Emptying Wares
Ashro: Stop Being Such A Slob And Get Yourself A Suit, Hat & Wig
19 Crappy & Crazy Christmas Gifts From Sky Mall
Silver Belles & Butt Floss: Christmas At Frederick's Of Hollywood
Preclears On Your List? Shop The Scientology Holiday Catalog