It was 87° with 95% humidity and some of us were dripping with sweat when we plucked the new Anthropologie catalog from the mailbox. Inside? Tights! Sweaters! Suede! Yes, they're already thinking about Autumn. So now we are too. Are you ready to embrace deep violet and chunky knits? The best and the worst of the new catalog, after the jump.
This is an awfully sweet dress that my boobs will never fit into in a million years. Shall we focus on the (adorable, affordable) hat instead?

Quotidian dress, $168; flora fedora, $48.
Yeah, wide pants are back. Do you own a single tuckable top? Me neither.

Addeo cardigan, $118; Cobblestone wide-legs, $118.
G/O Media may get a commission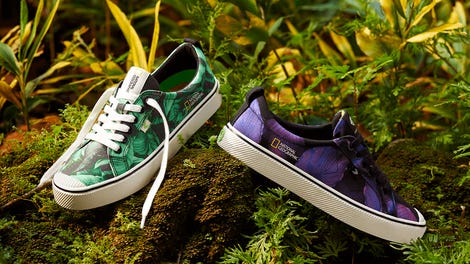 New New New
Cariuma + National Geographic
If you can wear that sweater dress, you've got less to work with in the hip and thigh area than I do. Kudos. And please note that the sweater from the cover is really borderline crazytown spin-art.

Mazzola sweater dress, $148; Soutine cardigan, $118.
I like the tights, the skirt and the shoes. The jacket thing is not working for me. And I hate to act catty and stabby but I sort of want to punch this woman. Not the model. The "character" she is playing. Who wears stuff like that and stands like that. Fuck off.

Hope & Union jacket, $188; Sufi skirt, $128.
Ooh la la! I love this. I love cardigans! And inverted pleats, and stripes, and cute skirts, and those shoes. I always want to dress like an "insouciant ingenue," but I think if I wore this it might come off as "spinster schoolteacher."

Pisacane sweater, $118; Sweet Life skirt, $148.
There's so much hideosity I don't know where to look. At the bird, I guess. He seems to have crapped all over that dress.

Double-button sweatercoat, $128; Summer tanager dress, $158.
People keep saying that ugly is the new pretty but this shit has got to stop. I just can't get behind this pageboy on LSD thing.

Cropped button trousers, $188; Veery heeled loafers, $118.
Sure, on this model, this coat is floaty and feminine. Anyone else will look like a demented escapee from a summer theater production of Tartuffe.

Dove's flight sweatercoat, $188.
Purple peep-toe pumps? Pretty please!

Parula peep-toes, $398.


My mom would like this dress. She loves butterflies. I am not so inclined. It is not my steez, as the kids say.

Whimwing sweaterdress, $248.
Why yes, that is a mouse nestled in that shoe. This is what passes for "quirky" at Anthropologie.
Violet trenchcoat: Want.

Plum perfect trench, $268.
Earlier: Urban Outfitters, Free People & Anthropologie: What's The Difference?

Pottery Barn, Anthropologie & West Elm: Bedding Porn For Sleepyheads

Anthropologie "Giving": We Love To Hate & Hate To Love It

Please Do Not Look The Anthropologie Model In The Eye

Anthropologie Doesn't Care About Black People