The August Anthropologie catalog borrows heavily from the look of Scott Schuman, the photographer known as The Sartorialist. The people inside are not models, but "real" people. "Real" people so interesting-looking that you might forget about the clothes.
Here's the statement on the opening page of the catalog: For our August edition: We photographed what inspired us… Real people. Real places. You.
Not you, though. Someone thinner, with a better haircut and nicer bone structure. You understand.
G/O Media may get a commission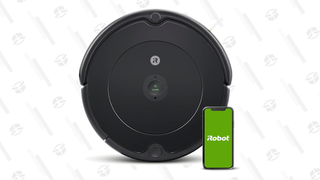 35% Off Black Friday Deal
iRobot Roomba 694 Robot Vacuum
The fluttering pencil skirt is lovely ($158) but doesn't actually come with the guy from Simply Red; the sweater vest thing on the right is mystifying and best left alone.
This cape ($148) is probably chic all by itself, but of course it looks chic when the damn Eiffel tower is in the background and she's got perfect bangs and there's an enfant peeping about. Merde.
Even if you think you like this "water & roses dress" ($148), the chances that you will be this cool are so incredibly slim it seems like folly to even think about trying to buy the frock; she has rocked it the way it deserves to be rocked and now it's over and done with and we'll all have to try and move on somehow.
And actually, that's the problem with this catalog. In addition to completely ripping off The Sartorialist (I actually emailed him just to make sure he didn't actually shoot these pictures; he confirmed that he did not), the use of "real people" wearing these clothes gives the impression that these people own these garments. Which makes you feel like, well, I can't wear that, that's hers. It's like trying to shop through someone's Facebook album. It feels wrong. The people look great, you just don't want to take their clothes from them!
That first series of shots were all from Paris; the next few are from New York. New continent, same thin, gorgeous, chic, citified aesthetic!
Here's one image in which you actually notice the clothes, because they are fug. Not talking about the chic cape in the background. Referring to the icky sleeves and the pukey pleats in the front and center. As the kids say: Vom.
Clockwise from top left: Ew, ew, pretty!, ew.
London, and that same $248 leather jacket we saw in New York. Plus! More "real" people who are just too freakin' attractive.
She's lovely. Hate the granny clothes, but she looks great.
Sick of the oh-so-slender, oh-so-muted, oh-so-artsy, oh-so-liberal-arts-school grad who now lives "downtown" look yet? Feel like any minute now, you may as well be listening to The Smiths or watching indie gem (500) Days Of Summer?
Zooey, is that you?
Earlier: Urban Outfitters: Does This Make My Ass Look Wack?
Fall At J. Crew: Romantic Ruffles, Destroyed Jeans, Hideous Shoes
May Anthropologie Catalog: Totally Watered Down