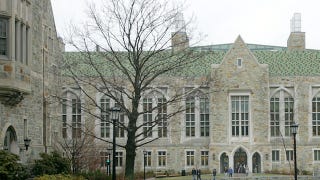 On the heels of KO Barstool's boycott of rapey blog Barstool Sports's Blackout Party at Northeastern University, Boston College students are staging a protest of their own. BC's Blackout Party is slated to take place on March 28, the same night as the school's Take Back The Night event. Student newspaper The Heights is asking students to stay away from the Blackout Party:
Here at BC, we are supposed to be men and women for others. Although the First Amendment grants creeps like [Barstool Sports editor] "El Presidente" the right to say that women deserve to be raped as a form of fashion advice, BC students should know better than to finance it.
And students have started a petition, signatories of which affirm "I am supporting survivors of sexual assault and not condoning the rape culture that barstool sports blog perpetuates." Good to know that opposition to Barstool's grossness is spreading.