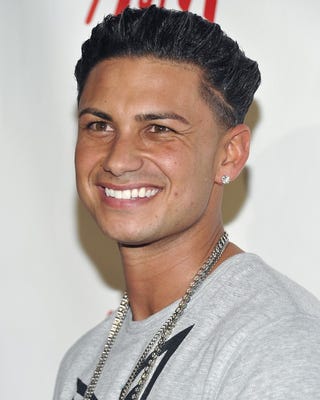 Kim Kardashian has a book deal, Lindsay Lohan has a fashion line, and now Jersey Shore's Pauly D is getting his own TV show. Meanwhile, you work for a guy who really loves Two And A Half Men. No justice!
To be fair, aside from JWoww (who, may I remind you, is my spirit animal now and forever), Pauly D, with his battering ram crown of hair and his operatic "TEE SHIRT TIME" announcements, is the best part of that show.
Apparently the new Pauly D Jumps The Shark show will focus on Pauly's life away from Jersey Shore, which consists of gymming, tanning, laundering, DJ'ing, and sexual encounters that occur under the influence of body shots. That Rhode Island! Such a crazy party paradise!
Pauly D's Reality Spin Off [Just Jared]
Image via AP