On Friday we learned how to get Hunger Games skinny, and today we have yet another workout plan inspired by the post-apocalyptic young adult novel set in a dystopian future.
A rep from a gym/spa breathlessly emailed:
Want to get into killer shape like Katniss, Peeta and the other Tributes from the Hunger Games? Exhale mind body spa's Core Fusion classes will hit every muscle in and around your core to help you transform into the ultimate fighter. Combine the classes below 3-4 times a week and you'll be no match for the other Tributes by the time the Hunger Games hits theaters March 23!
As you may know, in the books, the Tributes were in "killer" shape because they literally had to kill each other. These were children forced to murder or be murdered. But what a workout! The press release continues:
Core Fusion conditions your core by combining Pilates, yoga, ballet and dance principles to stretch, tone and work your muscles into toned Tribute perfection. After the intense thigh workout, your quads and glutes will be stronger and leaner than ever, perfect for climbing trees and jumping walls with Katniss and Peeta.
G/O Media may get a commission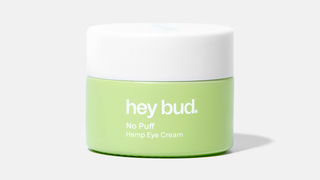 15% off
Hey Bud - No Puff Hemp Eye Cream
You'll be stronger and leaner, like the teens who were starving and dirty and climbing trees and sleeping in caves to stay alive.
Core Fusion Cardio raises your heart rate and maximizes calorie burn while increasing your endurance and sculpting your muscles. If you can survive the running planks and shadow boxing you will easily out run and fight the other tributes.

Core Fusion Sport uses the weighted core ball to amplify your workout and unleash your inner Tribute. The jump backs and push-ups will strengthen your back and shoulders to get you ready for archery with Katniss and javelin throwing with Peeta.
You won't actually learn archery. You'll just be ready for it.
Core Fusion Yoga conditioning and mindfulness creates an inner body connection to help you keep your eye on the prize — survival. While lengthening and strengthening your muscles you've worked so hard to get, you will leave relaxed and nimble – ready for all the challenges that will come your way during the hunger games.
Yeah, a government releasing kids into an arena to fight for the death has very little to do with yoga, but nice try. Anything else?
Core Fusion Boot Camp is the ultimate workout hybrid that incorporates the best of all the Core Fusion classes. This class combines signature moves like lunges, jump backs, planks and yoga flow. The strength and cardio challenges will sharpen your instincts and test your agility.

Exhale mind body spa salutes the Tribute in all of us. Find your strength and self at exhale mind body spa.
Meh, unless you can promise that freshly baked bread will arrive by silver parachute, we're gonna pass. But can someone tell us more about this Hunger Games mall tour? Cuz that definitely sounds dystopian.