Last night Real Live Movie Stars™ hit the red carpet at the Odeon Leicester Square in London, for the world premiere of Lay Miz. 'Twas a black tie affair, which means there were tuxedoes, but also: Weird bustlines, bare shoulders and crumpled taffeta.
Isabelle Allen, aka Young Cosette, is adorable in soft peachy pink. Daniel Huttlestone (Gavroche) wears blue that brings out his eyes.
Idris Elba was there, but this was the only photo of him, because we live in an unkind world. When I Googled Rylan Clark, one result informed me "he's a douchebag." In any case, he looks as though he's about to tie a woman to some railroad tracks.
G/O Media may get a commission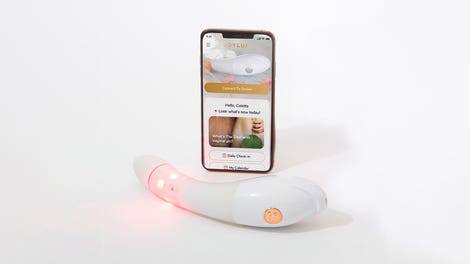 $50 Off
Joylux vFit Gold Device
Hugh Jackman (Jean Valjean) looks okay in a tone-on-tone tie/shirt combo — crisp black and white is better, though, non?
Or perhaps not: Russell "Inspector Javert" Crowe's topcoat length is bothersome. Steve Harvey-esque, and not in a good way.
Also: Check out Anne Hathaway posing her head off back there.
Eddie Redmayne (Marius), absolutely smashing in velvet, with that positively indecent mouth and freckles everywhere, sorry, what was I saying?
Your buddy Stephen Fry wore a cardigan and a flowery tie and looked mighty cheerful.
That's quite a large bow tie you have there, Matthew Morrison. (Aside: When I worked at a teen magazine I interviewed and had a photo shoot MM because he was in boyband called LMNT. He quit the group almost immediately after the photoshoot. A year or so later he'd been cast in Footloose and then Hairspray on Broadway, and I ran into him on the subway and he remembered me and was really nice.)
Valentino is the very picture of European peacockery.
In crumpled black taffeta, Helena Bonham Carter looks like she'd rather be somewhere else. Theory: HBC is actually a descendant of Madame Thénardier. This is based on nothing.
The words "purple crushed velvet jacket and studded booties" don't sound that great, but Rosamund Pike looks slick, chic and modern. Samantha Barks (Éponine) is beautiful, but the opening in her dress reminds me of a monster mouth and I can't unsee it. Look!
Laura Bailey's pink socialite ballgown stands out: Pockets! Leg'o-mutton sleeves! Bold, beautiful and weather-appropriate! She probably didn't realize camera flashes would reveal that she was not wearing a bra.
A simple, strong velvet bodice gown on Gillian Anderson looks fabulous, wish she'd worn a strong red lip to go with it.
Ellie Goulding's soft, delicate, pale dress with sheer sleeves is very pretty. Edgy hair and neon lips keep things from being too sugary sweet.
Isla Fischer 's dress looks unfinished, or like it was ripped into by a tiger. The underwire point in the center is distracting, and it just seems like you'd spend the evening yanking it up into your armpits for fear of exposing areolae. In summary: Wrinklenose.
Going through the red carpet shots, there were so many different Anne "Fantine" Hathaway poses. Many angles and views of this epic dress, which appears to not only be very shiny but to also have:
allover beading
a beaded "button" front
a beaded "belt"
a jeweled ring halter neck
enormous off-the-shoulder sleeves
an open back
a backseam ruffle

A lot is going on. It screams, nay, shreiks for attention. And if she puts her hands down it's a big old mess, so she has to keep her hands on her hips. Fail.
(The good news? Her haircut is looking awesome.)
Pose pose pose posey pose pose! Hand on hip or dress falls apart!
I dreamed a dream of red carpets gone by
When I could put my arms down and and life was worth living…
So! The best dressed on this particular red carpet is Amanda Seyfried (Cosette). Yes, I have a crush on her. But also the structured top with the contrasting movement below the waist just works. Ruffle with creamy white underside, leg slit, Veronica Lake hair, it all works. Love.
Remember on Veronica Mars when you found out that Lilly Kane had been with Weevil and it was just like, wow, and yet something in her eyes was all, I have more secrets than you will ever know?
Images via Getty.