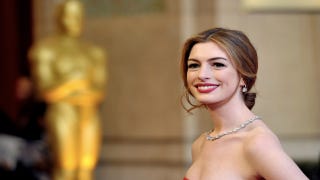 After receiving a heavy dose of criticism for the 2011 Oscars ceremony she co-hosted with James Franco back in February, Anne Hathaway says she would probably host again, actually maybe not, actually maybe, dear God never again.
Speaking on Thursday's edition of The Today Show, Hathaway despaired to host Matt Lauer: "They said we were the worst show ever, I think that qualifies as tough.

"There was the critical reaction, which was awful. Then there are the people who have been coming up to me since then who stop and say, 'I thought it was fantastic. I watched it with my family and we were entertained'. I am very grateful to those people."

Hathaway also admitted that she was undecided about whether she would accept a second hosting offer from the Academy, stating: "Why not? I don't know. Maybe. Perhaps. No."