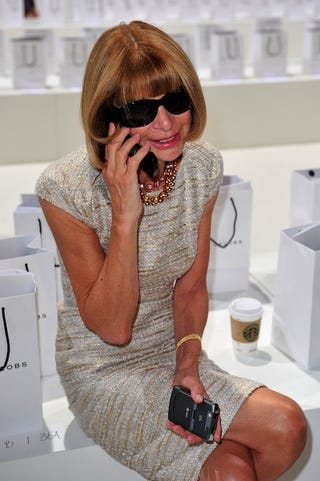 Vogue editor Anna Wintour's affection for all things Obama appears to extend beyond magazine covers, fundraisers, and joining a committee: Now, we've learned, Wintour and publishing director Tom Florio have hired the President's favored Web strategists.
A spokesman for Vogue confirms that Blue State Digital, the progressive-oriented online consultancy that famously created my.barackobama.com, has been hired to work on Vogue.com on both the editorial and business sides. They're focusing on outreach to readers and subscribers, says the spokesman.
Even though it rose to prominence for masterminding the Obama campaign's online organizing arm, Blue State Digital recently told Business Insider that revenues are up 40 percent, mostly from non-political clients who want to figure out how to create online communities.
Tom Florio, often seen as the personification of the old-line Conde Nast publisher — all swagger and Italian suits — is said to be actively involved. It's unclear if Wintour has been as well, but one thing's for sure: she's come a long way since refusing to use the word "blog."
Related: Meet Blue State Digital [Business Insider]