I have to believe that it's possible to talk about Hillary Clinton's clothing in a way that's not sexist or condescending and that largely reflects our society's general interest in the fashions of famous people. Let's try to do that right now.

In a story about the challenges of styling politicians, the Business of Fashion hits all the usual points: most politicians pay for their clothing out of pocket or with campaign funds, one must always strike a balance between looking good and looking professional and trustworthy, and so on.
They also threw in a curveball that delights me to no end: none other than Anna Wintour herself has been part of the Hillary Clinton Politi-Glam squad.
Clinton has been consulting American Vogue editor-in-chief and Democratic party fundraiser Anna Wintour on her wardrobe choices for key moments of the campaign, BoF has learned. On certain occasions, Wintour has approached designers to procure outfits for Clinton, who has settled into a uniform of brightly coloured pantsuits and jackets by US designers.
Of course she is.
Ahead of her historic speech tonight, Vox reports a surge in Google searches for what Hillary will be wearing. On one hand, no, male politicians—and men in general—do not face anything like the scrutiny of their wardrobe and physical appearance Hillary Clinton has gotten her entire career. However, are you telling me you have zero interest in what she'll be wearing tonight? I know the hell I care.
G/O Media may get a commission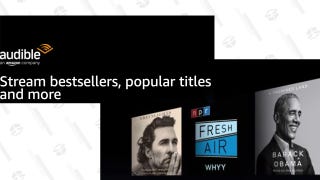 FREE
Audible Premium Plus 3-Month Free Trial
There's a way to enjoy fashion and Hillary Clinton's place in the fashion world without reducing the discussion to stereotypes about women or undermining her actual accomplishments. Obviously I know that her campaign bullet points are more important than her shoes, but it is, in fact, possible to care about two things at once.
Yesterday, Vanity Fair published a profile of the Instagram account Hillary Street Style, run by an anonymous New York lawyer who places Hillary's clothing choices in the context of the larger fashion world—and noting how often Hillary is either on-trend or ahead of the curve.
The person who runs the account argues that it is a way to discuss her fashion choices in a different light while also not ignoring the fact that she is a woman who is dressing to look good.
But for the Instagrammer behind @hillarystreetstyle, it's also an attempt to shift the tone of the political conversation around Clinton as a candidate. "I think Hillary's campaign is a little different this time around, than in 08," she says. "The campaign is a little more focused on acknowledging that she is a woman and that is a historical kind of change."
For tonight, the easy bet of course is that she—like Michelle Obama and unlike Ivanka Trump—will choose an American designer and a garment produced in the United States. In addition to Wintour, Clinton also employs a former aide to Michelle Obama to consult on wardrobe choices.
We already saw her in a blue pantsuit last night, so any shade of that color is probably out. If I may be so bold, I think she'll go for white—it's patriotic but perhaps a little softer than red so as not to scare the Big Big Mens while a lady talks on the television set.
This has been your preview of what was hopefully a balanced discussion about the clothing Hillary Clinton chooses to put on her back in a way that did not demean her professional career or attempt overshadow her accomplishments because the biggest deal about all of this is obviously that there's a very good chance a woman will be the next President of the United States. Let's try to keep this rolling for the next four or eight years, shall we?