Tale as old as time: Young woman in loveless marriage with governmental official has an affair with a rich count… and then the Stroganoff hits the fan. Nope, not ABC's Scandal: It's Tolstoy's famous 1878 novel with the oh-so-true opening line, "Happy families are all alike; every unhappy family is unhappy in its own way."
Several films have been made based on this story, the most famous ones starring Greta Garbo (1935) and Vivienne Leigh (1948); there was also a 1997 version starring Game Of Thrones's Ned Stark and the awesome chick from La Boum, Sophie Marceau.
This time around, Keira Knightley plays the titular tragic character, and handsome devil Aaron Johnson is Count Vronsky.
Although it was written over 130 years ago, since the story revolves around polite society scandalized by a woman's desires, it feels very now: As Think Progress's Alyssa Rosenberg writes:
I hadn't really thought of it this way until now, but Anna Karenina really is kind of the perfect movie for a year of dudes being horrible and sanctimonious about women and sexual freedom, isn't it?
G/O Media may get a commission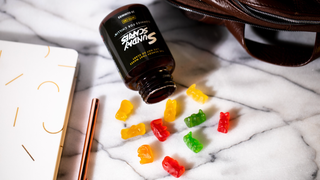 10mg CBD Gummies (22-Count)
But! THE COSTUMES. If you love hats, veils, pearls, diamonds and fur, I mean: