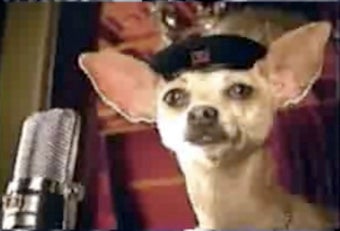 In honor of the passing of Gidget the Taco Bell Chihuahua yesterday, we've compiled a tribute to the commercial achievements of our favorite animal thespians, from Morris the Cat's unsuccessful presidential bid to the duck that's torturing Ben Affleck.
Though Gidget's Taco Bell commercials only ran from 1997 to 2000, her work inspired numerous catch-phrases that raised the nation's spirits during Monica-gate. Gidget went on to give an unforgettable performance in Legally Blonde 2: Red, White, and Blonde as Bruiser's mom, but this Viva Gorditas commercial best captures the mix of strength and pathos that she brought to every role:



In this groundbreaking 1960s commercial Mr. Ed, one of the earliest spokesanimals, informs his owner that his horseback riding days are over. Mr. Ed has already gone for a test drive in a Studebaker, and from now on he'll be doing the driving.



Obviously, Mr. Ed's message didn't reach these Clydesdales. A decade later they're still hauling around shipments of crappy beer at Ed McMahon's request.



But some commercial critters had it better than others. 9 Lives spokescat Morris rose to fame in the '70s and even starred in the 1973 film Shamus opposite Burt Reynolds. In the '80s, he ran for president against fellow actor Ronald Reagan, but lost when Americans got a look at his cabinet proposals in the commercial below.



Spuds MacKenzie's career as the "ultimate party animal" was marred by the discovery that he was actually played by a female dog named Honey Tree Evil Eye. But nothing can diminish his performance in the 1988 Olympics. Despite his lack of opposable thumbs, Spuds took home the gold in pole vaulting as the "Spudettes" cheered him on.



The Aflac Duck is smart enough to compare various insurance policies, but his biggest achievement is being the bane of Ben Affleck's existence. Ben has said that after these commercials aired people started walking up to him and screaming "Aflac" all the time.



Duke from the Bush's Baked Beans commercials seems pretty intelligent too, as he has taught himself to talk. But if he's so smart why does he live with an adult man who uses a baked bean bedspread?



Technically David Duchovny doesn't qualify for this list, but he deserves an honorable mention for his voiceover work in the Pedigree commercials. Even though for years, talking about dog food was the only post-X-Files work he could find, he demonstrated an utter lack of shame. We'd be happy to rub your belly, Mulder.



Toby may not be that well known yet, but every time we see the mom in this Stanley Steemer commercial roll her eyes and ignore her child, we can't help but applaud Toby's new trick.

Earlier: R.I.P. Gidget