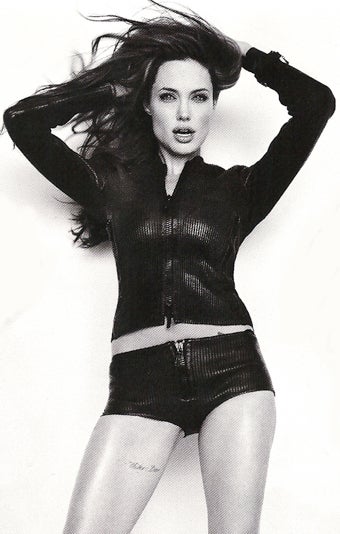 We just got an email which read, "My Theory on the Inner Thigh Tattoo" and contained a pretty good argument:
I think it reads Whiskey Bravo.
My logic:
She says : "Um, it's for Brad."
Brad's real name is William Bradley Pitt.
According to the alphabet the military use: William Bradley = Whiskey Bravo
It's tough to tell in these scans, but when you're holding the new issue of Vanity Fair in your hands, the "whiskey" part is pretty obvious. Thanks for the tip!



Angelina Jolie on Marriage, the Kids, and Retirement [Vanity Fair]
Earlier: Opinion: Angelina Jolie's Inner Thigh Tattoo Is The Most Important Mystery Of Our Time