Roughly two years after she wrote an op-ed for the New York Times about getting a mastectomy, Angelina Jolie has followed through on her plans to have a salpingo-oophorectomy, due to her genetic predisposition for ovarian cancer. "Regardless of the hormone replacements I'm taking, I am now in menopause," she writes of her experience in a new piece for the Times. "I will not be able to have any more children, and I expect some physical changes."
Jolie writes that she consulted with both "Eastern and Western doctors" before making this decision, and they "agreed that surgery to remove my tubes and ovaries was the best option, because on top of the BRCA gene, three women in my family have died from cancer." She did not remove her uterus because she does not have a family history of uterine cancer, but does now have a progesterone IUD, which some researchers believe can prevent endometrial cancer.
After Jolie's last op-ed, there was a rash of conversation over whether mastectomies for women who carry the BRCA1 gene were really the best way to go; some women said Jolie inspired them to get tested and have the same surgery she had, and at least one study showed that Jolie had been the impetus for a dramatic increase in women researching whether they too were carriers. In her new piece, she seems more cognizant of the effect her influence has had, hedging that women should "choose what is right" for them:
I did not do this solely because I carry the BRCA1 gene mutation, and I want other women to hear this. A positive BRCA test does not mean a leap to surgery. I have spoken to many doctors, surgeons and naturopaths. There are other options. Some women take birth control pills or rely on alternative medicines combined with frequent checks. There is more than one way to deal with any health issue. The most important thing is to learn about the options and choose what is right for you personally.
G/O Media may get a commission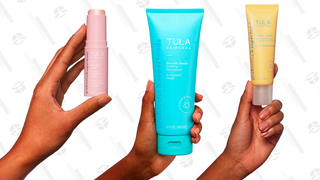 That being said, as she did with the last piece, Jolie clearly spoke out because she believes in the choices she's made and would like others to know their options. "I feel feminine, and grounded in the choices I am making for myself and my family," she writes. "I know my children will never have to say, 'Mom died of ovarian cancer.'"
Image via Frazer Harrison/Getty for A&E Network
---
Contact the author at dries@jezebel.com.