The first quote from the W profile of Angelina Jolie (now online) hails back to her wild-woman days: It's about knives. "My mom took me to buy my first daggers when I was 11 or 12," she says. "And I've already bought Maddox some things. We take him to a special shop." She adds that the blades are dulled so they're not dangerous, and that the purchases are accompanied by discussions about violence. She says, "We also talk about samurais and about the idea of defending someone as good. We talk about everything." But other than that, and a tour of her 988-acre property in the south of France, replete with vineyards, forests and olive groves, Angelina's interview with writer Christopher Bagley sounds like any other mom and loving girlfriend. (Pictures by Brad Pitt are online too, see a few after the jump.) Angie was very candid, saying:"I do think that I'm good in a partnership now. I think it just needed to be the right man." Plus, writes Bagley:
…She believes she was correct about needing to find a shared purpose with someone. "It's not just that I love being in Brad's company, which obviously I do, but it's that we both roll up our sleeves and take on what we care about in the same way," she says. "I have a lot of respect for him, and he helps me to be better and fight hard for things that I love."
She also talks about getting knocked up: "I think one of the life-changing things that he did, one of many, is that I was absolutely never going to get pregnant. I never felt that it was the right thing to do. Now I wouldn't trade that experience for the world. It taught me a lot about life, just the process of it, and now we have three other beautiful children that wouldn't otherwise be here." As for the kids, Zahara and Pax like to slow dance together, imitating Princess Aurora and Prince Phillip from Disney's Sleeping Beauty; newborn Vivienne is "sturdier" and "more demanding" than her brother Knox, who is "very chill" and "loves music," taking after his father. All of the children sleep with Angelina and Brad at some point. "Most nights, someone ends up in our bed," Angelina says. "They've just taken over in there-especially right now, because we want them to feel that the babies aren't special in the room." But: "The kids do knock before entering," she says. "We've at least got that part down. Because Mommy and Daddy need some space." So there you have it. The world's most-wanted it couple are just like any other parents. Except she's gorgeous and on the cover of W.

G/O Media may get a commission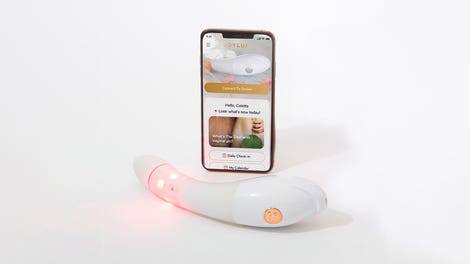 $50 Off
Joylux vFit Gold Device