Despite Us Weekly's herculean efforts, I just have a hard time caring about what Andy Roddick is doing. I guess because mostly the stuff he does is hit a ball with a big paddle and put his rod/dick in a supermodel. No hard feelings, just not really my wheelhouse when it comes to entertainment. But ANYhooz, Roddick is doing something different today! He's announced that he's ending his 12-year tennis career after this year's U.S. Open.
Roddick — who's only 30-years-old — has reportedly made over $20 million in prize money during his career ... plus a FORTUNE in endorsement deals with Lacoste, Rolex, Lexus and American Express.

Roddick — who famously won the U.S. Open in 2003 — has been plagued with injuries during his 12-year career ... affecting his knees, ankles, shoulder and back.
Best of luck to him! If you have any suggestions for what Andy Roddick should do with his free time and his bazillion tennis-dollars, put them in the comments where he will never, ever read them or care. [TMZ]
---
According to "sources," LeAnn Rimes suspected that Eddie Cibrian has been cheating on her with hella ladies, which most likely contributed to her current "anxiety and stress" rehab stint.
"LeAnn called a friend of hers a few weeks ago sobbing hysterically about Eddie going out...She was home for the weekend and he didn't stay in with her and she was crying saying that she was so worried about what he was doing when he wasn't with her. LeAnn is beyond stressed about the cracks in her relationship with Eddie and she has been really scared that he is cheating on her."
G/O Media may get a commission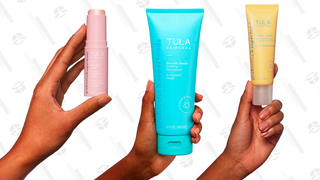 Rimes and Cibrian got together in 2009 when they were both married to (and cheating on) other people. At the time, Rimes said, "I take responsibility for everything I've done. I hate that people got hurt...But I don't regret the outcome." :-| [Radar]
Rimes is also apparently suing two women for illegally recording conversations with her and selectively editing them to make her sound "crazy and delusional." The women are reportedly friends and avengers of Cibrian's ex, Brandi Glanville. [TMZ]
---
Autopsy results reveal that Sage Stallone, 36, died of a heart attack—not a drug overdose, as has been widely speculated. Stallone had no evidence of drugs in his system at the time of his death, but he did have evidence of heart disease. [TMZ]
---
Is Jon Voight jealous that Clint Eastwood got picked to be the super-secret Celebrity Crotchety Crank of the Year at the RNC convention tonight? After all the tireless work Voight has put in this week running around spouting conservative nonsense platitudes about the nefarious secret-Muslin liberal media's brainwashing techniques—and they get Eastwood to speak? It's not fair, is it???
"No, no!" Voight told me just now when I asked him if he felt upstaged by Clint Eastwood, or was jealous that he'd been given a speaking role. "It's like my family is up there! It's fantastic! It's much more important that Clint Eastwood speaks than that I speak. I've been here for the week, I've been doing my - I do what I do."
Okay, dear. You do you. I'll be over here victimizing Republicans with my uterus. [DailyIntel]
---