Lisbeth Salander, the "girl" in The Girl With The Dragon Tattoo, is actually a very complicated woman. On the one hand, she's smart, strong, and doesn't stand for bullshit. On the other, she's a vengeful sociopath, possibly with Asperger's. So how does one explain such a character, in what's one of the most highly anticipated flicks of the season? Below, words used to describe Lisbeth Salander, collected from various reviews.
rebellious
cyberpunk
one messed-up gal
disturbing and wounded
not a hero
a 24-year-old goth, tattooed computer hacker
the poster girl for punk and spunk
Heroine? Antihero? Femme fatale? Avenging angel? Lisbeth Salander is all of the above — and then some
punk heroine
incredibly interesting, sexy girl who is tap-dancing on the edges of normal society
an antiheroine in the best tradition of noir
a dark, conflicted young woman who is nonetheless very clear and confident about her world view and where she stands in it
a damaged 23-year-old ward of the state/hacker/detective/bisexual/antisocial problem-solver
a sallow, callow computer hacker
a twitchy, anorexic waif
she's guarded, mistrustful, sullen and, crucially, brilliant when it comes to hacking into people's lives via computer
a computer whizz with zero social skills but an incandescent sense of purpose.
a slight, whey-faced child-woman with piercings, tattoos and a spiked black haircut of terrifying unattractiveness

And this, from A.O. Scott:
Tiny as a sparrow, fierce as an eagle, Lisbeth Salander is one of the great Scandinavian avengers of our time, an angry bird catapulting into the fortresses of power and wiping smiles off the faces of smug, predatory pigs… Lisbeth is an outlaw feminist fantasy-heroine, and also an avatar of digital antiauthoritarianism.
G/O Media may get a commission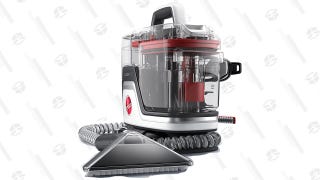 Save $10
Hoover CleanSlate Plus Carpet & Upholstery Cleaner

However you choose to see her, chances are she'll be number 2 at the box office: Tom Cruise and his ghost booty call are on track to take the number one spot.
"Dragon Tattoo" Movie: Women, Forget The Marketing, See The Film [HuffPo]
Review: Rooney Mara squeezes fresh pulp in The Girl with the Dragon Tattoo [The Star]
Rooney Mara: Dragon Tattoo Made Me More Masculine [Times Of India]
'Tattoo': Raw, Rousing and Rather Redundant [WSJ]
Lisbeth Salander Redefines Hero In 'The Girl with the Dragon Tattoo' [Cleveland.com]
'Girl With the Dragon Tattoo' is cool and crafted, critics say [24 Frames/LA Times]
Movie Review: 'Tattoo': Lean, Mean Suspense Machine [News Tribune]
The Girl With The Dragon Tattoo [Independent]
The Girl With the Dragon Tattoo [NY Times]