Sweet jiggling breasts, has Susan G. Komen for the Cure ever painted itself into a corner. When they first announced their decision to revoke funding from Planned Parenthood, they said it was because they had a rule against giving money to organizations that were under investigation. But they give money to organizations that are under investigation all the damn time. And they certainly don't have any trouble taking money from companies that are under investigation. Let's take a tour of their hypocrisy, shall we?
Susan G. Komen For The Cure CEO Nancy Brinker has spent the last 48 hours embarking on a bizarrely prim damage control tour wherein she folds her hands in her lap and tells reporters that when they said they were stopping the flow of funds to Planned Parenthood because of a rule (that was definitely not just made up by Karen Handel so that they'd have an excuse to stop funding Planned Parenthood), what they meant was they were just trying to streamline the process and I guess that whole first press release about how they were following a rule was maybe not intended to be a factual statement. But regardless, let's take a moment to examine how, if the Handel Rule actually exists, it's been completely non-enforced.
Let's first turn to Penn State, recipient of a 5-year, $7.5 million grant courtesy of Komen. Mother Jones found that a grant was awarded to the institution in 2008, before the 2011 establishment of a rule that declares that Komen will no longer be donating funds to organizations under investigation at the local, state, or federal level. Since the federal government is currently investigating Penn State for its institutional role in the Jerry Sandusky child sex abuse scandal, if the "Handel Rule" were being applied uniformly, monies to Penn State's affiliated hospital should be suspended until the investigation's completion. But cash still flows to Happy Valley.
According to the charity's website, in the last year, Komen's given quite a few grants to quite a few hospitals and medical schools associated with quite a few investigations.
They've given a grant to researchers at the University of Kansas, even though two scientists working there are currently under investigation for plagiarizing portions of their research.
G/O Media may get a commission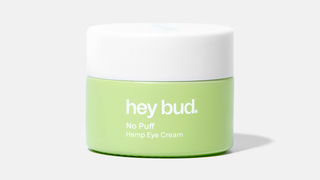 15% off
Hey Bud - No Puff Hemp Eye Cream
And Komen's supposedly high minded (and patently false) claim that they won't give grants to organizations that are under investigation of course doesn't apply to money flowing into the organization.
Komen also gladly accepts money given by Ford, American Airlines, Key Bank, and Microsoft — all of which were recently under investigation. Talk about inconsistent principles.
And yet, Nancy Brinker continues her confusing damage control tour as though it will be a piece of cake to convince a skeptical public that Susan G. Komen For the Cure is not completely full of it, when it's clear that not only did they defund Planned Parenthood because of Karen Handel's rabidly anti-Planned Parenthood agenda, but they also lied about it, twice. They lied when they said that they cut Planned Parenthood out because of a rule— because they don't follow that rule in any case but the case of Planned Parenthood. And they didn't stop funding Planned Parenthood because of "streamlining," because they should have foreseen that the public backlash at the family planning provider's defunding would have resulted in untenable backlash. The conservative leadership of Susan G. Komen for the Cure severely underestimated their supporters— just because they're women who are fine with decking themselves out in pink feather boas doesn't mean they're stupid and gullible.
Maybe it would be best, for the time being, for Nancy Brinker and the rest of the Komen leadership to shut up, regroup, and speak publicly again when they've got their story straight.