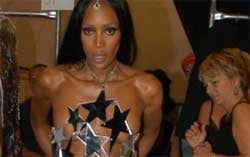 Congratulations on winning America's Next Top Model, CariDee, we feel that your name is ridiculous enough to catapault you to megastardom. But don't forget, you have a responsibility to your fans. Former winner Yoanna House explains the tear-inducing legacy of success:
"I ordered coffe from a girl, and she started to cry. She said that I gave her hope."
So. Order coffee from someone fat and ugly, and they'll weep gratifyingly at their own inadequacy. And if that doesn't work, throw a phone at someone. It always worked for Naomi Campbell.