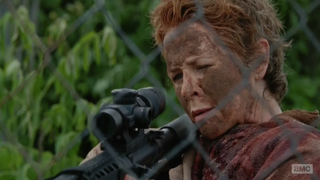 In the spirit of year-end-lists, Nielsen released a report of the most tweeted TV shows of 2014 and The Walking Dead came out on top, averaging 576,000 tweets per episode. Confirmed: Zombies still No. 1 everywhere.
This means our obsessive live tweets about tainted meat and the status of Carol and Daryl #WonTwitter. Coming in second place, Pretty Little Liars, a show I don't watch, produced 489,000 tweets per episode. According to The Hollywood Reporter, the stats include any tweets that were sent three hours before and three hours after the show aired. Elsewhere:
ABC's Scandal stood out with an average 391,000 tweets, but its audience reach of 2.57 million fell below FX's American Horror Story: Freak Show (3.60 million), HBO's Game of Thrones (3.50 million) and MTV's Teen Wolf (2.63 million).
Twitter had 13.77 million posts about the Grammys, compared to the Oscars' 11.16 million, but the film awards captured an audience of 13.92 million, compared with the music awards' 12.82 million.
The Oscars took the year's most-tweeted-about minute for a special event: the minute following Ellen DeGeneres' star-studded group selfie. The publicity stunt garnered 203,000 tweets at 10:07 p.m. ET on March 2.
Image via AMC