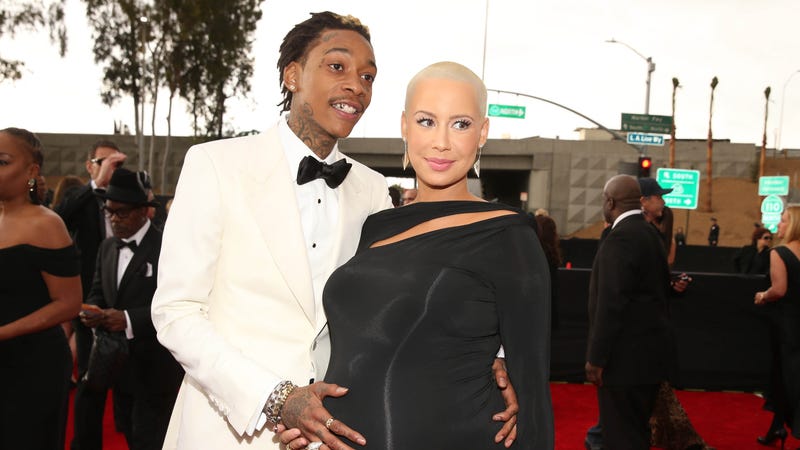 Amber Rose says she was all set to have an at-home water birth, but at the last minute learned that her baby was breech and that she'd have to have a C-section on dry land instead. Stressful!
"I found out really, really late that my son was breech," the new mom told the talk show host. "So I had to just switch it," she revealed, admitting she was "terrified" to have the C-section surgery.

"It literally took me the whole time to prepare myself for a water birth, and like, in an instant, I was gonna get my abdomen cut open and have, like, major surgery. And I'd never had surgery before, so I was really, really scared."

But the first-time mama says it wasn't a tough to give up her home birthing dream, "At that point, I just wanted my baby," she said.
The same thing happened to my mom when I was born! The doctor thought my butt was my head, but it wasn't. It was my butt. I guess I could have died or something. Anyway, high five, fellow surprise-breech emergency C-section babies! Let's have a parade! [E!]
---
Seth Rogen feels perfectly understandishable sensual love feelings for Zac Efron, male veela.
"Zac Efron is incredibly handsome," Rogen, 31, told reporters recently at the second annual Hilarity For Charity House Party in Los Angeles. "He's the sexiest [expletive] on the planet!"

Acting beside the buff Efron, 25, was a challenge, says Rogen, particularly at one point during the shoot.

"I did a scene with him, and we're both shirtless, and it was a very humbling experience," Rogen said with his trademark chuckle. "I marveled at the fact that we're literally the same species."

..."I'm hairier than he is, so I win at that," the actor told PEOPLE as he clutched his wife, Lauren Miller, to his side. "[Zac's] very veiny. I'm not that veiny."
This seems like as good an excuse as any for all of us to drop everything and watch "Bet on It"—the single greatest piece of sonic and ocular artwork ever created by the human body—17,000 times in a row. ANGRY-MARCH, ZAC. ANGRY-MARCH IT OUT. [People]
---
Beyonce, J-Lo, and Florence & the Machine are teaming up on a concert to benefit women's health and education.
The "Sound of Change Live" concert on June 1 in London's Twickenham sports stadium could fund at least 120 projects supporting girls and women in more than 70 nations, if all the tickets are sold, organizers said on Wednesday.

...Beyonce, currently on a European tour, will play a 45-minute set. She will be joined in the venture by singer and dancer Lopez, R&B artist John Legend, British indie sensation Ellie Goulding and rapper Timbaland, with more performers still to be announced.

U.S. actors James Franco, Blake Lively and Jada Pinkett Smith will be among the presenters.

"Our goal is to have a great time together while we unite and strengthen the voices of girls and women around the world," Beyonce said in a statement.
Tickets cost between $85 and $150. [Reuters]
---
Alfonso Ribeiro and his wife are having a baybay! It is their first child together.
"Coming this fall: a baby Alfonso or a baby Angela!" the former Fresh Prince of Bel-Airstar wrote under a split shot of him and Unkrich as kids.

Ribeiro, 41, already has a 9-year-old daughter from a previous marriage.

He and 31-year-old Unkrich exchanged vowsin Burbank, Calif., last October. The couple tied the knot in front of 175 family and friends including Joey Fatone and Rick Schroeder.
What would be awesome is if on the birth certificate under "name," it was just this gif. (Be the change I want to see in the world, Alfonso!) [E!]
---
Kristen Stewart has been named the best dressed woman of 2013, beating out Kate Middleton. Again, I say, this isn't going far enough. We need to rank all women on earth by all possible criteria, from best to worst, until we finally know which woman is #1 and precisely how much better she is than all other women!!! HURRY. SOME OF THE WOMEN MIGHT START FEELING OKAY ABOUT THEMSELVES. [Us]
"Brooklyn Decker's Mom Grabs Most Interesting Man in the World by the Balls." [E!]
Nicole Richie got bangs. [E!]
Christina Hendricks loves her husband and her cockapoo. [E!]
Fun fact: Vanessa Hudgens secretes her own crop-tops. [JustJared]
Here's Kelly Ripa and Mark Consuelos's uber-'90s wedding photo! Spaghetti straps! [E!]
Here are Beyonce's rider demands ranked in order of annoyingness. [E!]
Here is Allison Williams in her workout clothes with no makeup. She looks like Allison Williams. [HuffPo]
Byebye, naptime.

Images via Getty Images North America.