Yesterday Amber Rose released her new emoji app, Muvamojis, and because we can't have a minute of peace, people are already pitting her against Kim Kardashian and her Kimojis.

According to TMZ, some are saying that Amber copied Kim's app because apparently Kim Kardashian owns the concept of emojis now.
Sources close to Amber tell TMZ she and Kim have a ton of mutual friends ... and Amber's phone has been blowing up all morning about the release of her new MuvaMoji app. We're told everyone can see a ton of similarities, if not exact copies, between several of the images.
So, this is dumb but let's talk about it.
I think it's important to point out that neither of these women were out here personally illustrating and programming damn emojis, so the idea of Kim's "work" being copied by Amber is pretty silly. Further, I'm going to guess that the idea of personalized emojis did not spring forth one late afternoon from Kim's imagination. Kim Kardashian is probably pitched a million business ideas every day and this just happened to be one that Kris let her do.
G/O Media may get a commission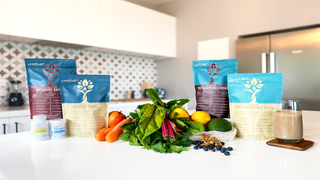 The Kardashians also have a line of self-tanners but I don't think they were up in the lab testing the formulas of Dihydroxyacetone. Nobody said they were out here copying every other bronzing cream on the market.
While both emoji apps include each woman's face and big butts in thongs, it seems that the major similarities stop there. I don't really know what the Kimojis look like because I will not spend my hard earned money to support this reign of terror, but I can't possible imagine that they're better than Amber's anyway. The Muvamojis app includes a pregnancy test, an Angela Davis-esque emoji and a perfectly merciless Bill Cosby emoji.

REGARDLESS none of this really matters because those who are really real already know that Lil B released his own line of emojis back in September of 2014, so the only person who has any right to be annoyed is the Based God himself.
---
Images via Getty.