You might as well start shrieking now, that's how insanely heart-exploding this story is. George, a two-year-old very adorable Basset Hound, was home alone in England and somehow got himself tangled up in a phone cord and started choking. He then did something amazing: he managed to dial 999 (the British equivalent of 911) with his paw while trying to wrestle himself free! The operator heard heavy breaths on the line and sent police out to the house. When they arrived, a neighbor let them into the house, and they found George choking on the floor in the living room. The neighbor, Paul Walker, says,
He was absolutely terrified and could not free himself. I knew I had to get him free quickly so I just ripped the wire out. Incredibly you could see where his paw print was on the phone to ring 999 — he literally saved his own life.
Ahhhhhh, George! You are such a genius. Except apparently you're really not. Lydia, one of his owners, who was at work when all of this happened, says,
It is just so lucky that his paw managed to ring 999 otherwise he would have died. We still don't know how he managed it. It's one of those old-fashioned phones with the dialling ring. He's not usually very smart. He's really dopey and just likes to chew socks.
Oh, Lord. It's too much to handle. Now that he's through this ordeal, he should be allowed to chew as many socks as he likes, but maybe it is time to get a cordless phone so George isn't tempted to repeat his big adventure.
Choking dog saves its own life by dialling 999 [The Sun]
Image via Maxx-Studio/Shutterstock.
G/O Media may get a commission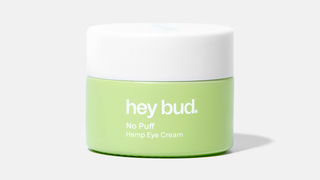 15% off
Hey Bud - No Puff Hemp Eye Cream