This weekend, American student Amanda "Foxy Knoxy" Knox finally took the stand, testifying that she was not involved in the murder of her housemate and claiming that incriminating statements she made during interrogations were the result of police abuse.
Knox, 21, took the stand for the first time on Friday, after being arrested in November 2007 shortly after the murder of British student Meredith Kercher, 21, in Perugia, Italy. Speaking in English and fluent Italian, Knox said that on the night of the murder she was at her Italian boyfriend Raffaele Sollecito's house and that the two smoked marijuana, watched Amélie, had sex and fell asleep, reports the New York Times. When she returned the next morning, she says the door to her apartment was open and Kercher's door was locked, and eventually she decided to call the police. Four days later she and Sollecito were arrested on charges of murdering Kercher in a sex game gone awry and tampering with the crime scene to make it look like a robbery.
Knox testified that during her interrogation, police said the "wanted a name" and pressured her to accuse her boss at the bar where she worked, Patrick Lumumba, of the crime. According to MSNBC, Knox said a policewoman hit her twice in the head:
"Do you remember? Do you remember? And then boom! On the head," Knox said, mimicking the slap in court. "I went: mamma mia! And then again, another boom!" ... "It didn't hurt, but it frightened me," she said of the slaps.
After hours of questioning and what she described as "a steady crescendo... of 'I don't know,' 'you're a stupid liar', 'maybes', and 'imagines' that..." she gave written testimony saying she was in the kitchen blocking out Kercher's screams while Lumumba committed the murder. Knox says she wrote the statements in an attempt to focus her thoughts after police spent hours trying to put ideas in her head. "I wasn't sure what was my imagination and what was reality," she said.
Knox explained:
When I said "Patrick" I actually started to imagine a kind of movie, images that could have explained the situation, Patrick's face, then [Perugia's] Grimana square, then my house on the night of the murder.
G/O Media may get a commission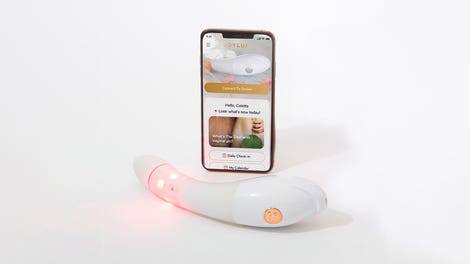 $50 Off
Joylux vFit Gold Device
Lumumba has been cleared by prosecutors and is suing Knox for defamation.
Prosecutors asked Knox why she told her mother that she felt bad about sending Lumumba to prison in a bugged phone call from prison, but failed to tell police he was innocent. She said she didn't trust the police anymore because in her first few weeks in jail she was tested for HIV and told she had AIDS, before another test two weeks later proved she was negative, reports The Independent.
Knox also told her mother she was concerned that police found her kitchen knife at Sollecito's house. Forensic experts testified that it has Kercher's DNA on the tip and Knox's on the handle, but she said she wasn't upset because she knew it was the murder weapon. "I was worried because for me it was impossible. I didn't know how it could be there," she said. Attorney Anne Bremner, spokeswoman for Friends of Amanda, told Time that video from the crime scene proves police collected evidence incorrectly, and that the kitchen knife actually, "doesn't match an outline of the knife on the bed."
During cross examination on Saturday, Knox was asked by prosecutors to reveal details about her personal hygiene, sex life and drug use. She told them that she slept with Sollecito the first time she met him, and she was questioned about a $279 municipal citation she received for a party she and her friends held at the University of Washington, asking if the party involved "alcohol, drugs, people throwing rocks" and "naked people inside." Knox said the citation was just a noise violation.
She also denied that she was friends with Rudy Guede, the 22-year-old Ivory Coast native who has already been jailed for 30 years for murdering and sexually assaulting Kercher, the BBC reports. On Friday Guede told the press from prison, "You know you were there, Amanda, tell the truth."
In a sad concidence, Knox's testimony this weekend coincided with what would have been her college graduation. Knox's family and friends will testify for the defense next, with her mother, Edda Mellas, taking the stand on Friday.
In the video below from the Today show this morning, Curt Knox says he thinks his daughter stood up well to aggressive questioning from prosecutors.


American Testifies In Her Murder Trial In Italy [The New York Times]
Amanda Knox: Slain Woman Was a Friend [MSNBC]
Knox In The Witness Box: 'I Did Not Kill Meredith' [The Independent]
How Strong Is The Evidence Against Amanda Knox? [Time]
Lawyer Challenges Knox Testimony [BBC]