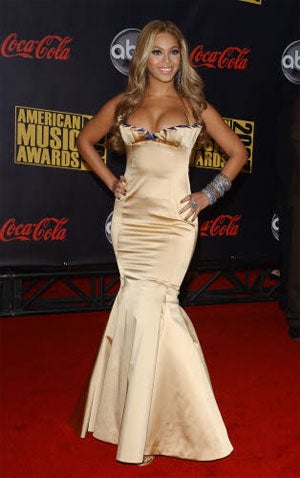 The American Music Awards were last night, hosted by Jimmy Kimmel. We caught about 30 minutes of it, and that was more than enough. Once we heard Kimmel make an ill-placed joke about his 14-year old son wanting to lose his virginity, we had to change the channel. (And whatever, Pretty Woman was on TBS at the same time!) The fashion choices on display left us with a similar feeling: While there wasn't anything downright offensive, something about the whole thing just read wrong. Like Beyonce, for example. Yeah, she looks great — but haven't we seen her in like this dress just in different colors at every single event she's been to in the past 5 years? After the jump, we give you our picks for the good, the good but bordering on slutty, the bad and the ugly.



The Good:


Alicia Keys exudes class and good taste while Christina Applegate brings new life to the color purple.
The Good...But:


Vanessa Hudgens and Miley Cyrus both look super cute. But aren't their dresses a little short given their ages? (Also, Hudgens is starting to bear an uncanny resemblance to early 90's Mariah Carey. Just saying.)
The Bad:


Rihanna's dress is wearing her, not the other way around and Avril Lavigne forgot it isn't Halloween and clearly came as Streetwalker Barbie.
Carrie Underwood is being slowly choked by her dress while Ashley Tisdale channels Mr. Roboto.
The Ugly:


Taylor Swift not only pairs cowboys boots with a cocktail dress, but wears sheer stocking to boot. (No pun attended.) Meanwhile, Fergie's neck is moments away from bearing stigmata.
Phoebe Prince and Kid Rock: No further explanation needed.