People, I don't really like discussing certain aspects of my life on the interwebs but there's something you should know: I'm not thin. I'm not use-a-crane-to-remove- her-from-her-house obese, but I can't fit into 75% the stuff I want. Zara is off-limits; Club Monaco is a joke, Benetton makes me weep. But! The teen brands rarely ever let me down. Alloy, I am talking to you: Low prices, larger sizes and the ability to try stuff on in the refuge of my own home. Is it hit and miss? Sure! Is it worth it? Yes. The new catalog has lots of goodies, whether you're a 6 or a 16. Shop with me, after the jump.
Most items mentioned are available in sizes XS-XXXL.
This stuff is not just for teenagers! Wear the dress to work with a cardigan; the trench with trousers. Pretend you didn't see those pre-torn jeans.
G/O Media may get a commission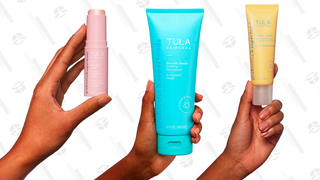 These are the jeans that you should wear with the previous trench. Plus: The Karmann-Ghia is my dream car!
Cotton blouse with lace inset! Under $32! Actually, everything on this page — except for the pre-torn jeans — is pretty great. And that includes the vintage luggage, which, sadly, is not for sale.
While all of these are cute, your best bet is the Sackrace dress. Cotton. In white or black. Up to XXXL. Forty bucks.
I have this dress. I get so many compliments on it. It's so crisp and easy and looks cool with silver bangles and gladiator sandals. Highly recommended; now on sale.
Skinny jeans! I know they are much-debated. I think they can be slimming. You may disagree. But check this out:
Wide leg, trouser cut and boot cut. From sizes 1-25. Awesome fall colors. All under $40.
More dresses! I've already ordered that drop-waist one on the left. I'll let you know how it goes.
The top and the dress are pretty great. Ixnay on the eansjay and the ootsbay.
I also ordered this blouse. Cotton! 35 bucks! I'll pair it with a pencil skirt and the kooky oxford heels I got at Payless.
[Alloy]