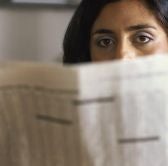 Mary J. Blige, James Blunt, and The Dixie Chicks lead the Grammy charge. Paris Hilton and Kevin Federline inexplicably fail to get the nod.
Not content with making your ears cry, Madonna wants to dress you. And then roll around in a pile of dollars laughing at you because you're fat and you look like shit.
Gwen Stefani's launching a perfume. How original.
Ooh look! Candadians can be controversial!