On January 29, 2018, a magnificent, historic coalition of Hollywood's finest black talent convened to premiere what's expected to be one of the greatest films of our generation, Marvel's Black Panther. Early reviews are beyond promising. Damn near everybody (well, all the black attendees) at the Hollywood premiere last night showed up in their most sublime regalia and traditional African garb to celebrate the occasion. Chadwick Boseman. Lupita Nyong'o. Daniel Kaluuya. Issa Rae. Angela Bassett. Let's begin. Sincere ALL-CAPS mode, activated.
Um, WOW??????????????????? First of all, stop it. Second of all, we're well aware that EVERY color available on Earth looks good on Lupita Nyong'o, but PURPLE—an Atelier Versace gown with black-and-gold armor—is PARTICULARLY enriching and apropos for the event given its monarchy vibe.
...Third of all, HOW??? Angela Bassett is showing what the color YELLOW should look like AT ALL TIMES!!!!! Yellow should never not look like this. Not only did she rock fringe, but each RUNG on the PANT, each STRING of fringe, is LIVING ITS BEST LIFE!!! YELL for yellow! BELLOW for yellow!
G/O Media may get a commission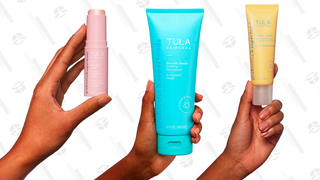 Have you seen what a BORING red carpet looks like when all the dudes just wear basic black tuxedos??? THIS. IS. NOT. THAT. Daniel Kaluuya paired a burgundy Burberry blazer with a Ugandan Kanzu. David Oyelowo is fresh as hell in a dashiki, and Michael B. Jordan came through with subtle though no less imperial specs of gold and embroidery.
Chadwick Boseman, the Black Panther himself, POWERED UP in Emporio Armani. Don't stare too long!!!
Radiance, that is Janeshia Adams-Ginyard, a stuntwoman who said NOBODY IS UPSTAGING ME TODAY!!! Actor Kylee Russell is in a darling pink slip dress. Marsai Martin's print is KILLING me softly, in a POSITIVE way, and so is her SMIZE.
Yara Shahidi looks LOVELY AF!! Actor Sydelle Noelle is golden and decadent and I love that she dramatized the look with a tribal high pony. Danai Gurira wore Viktor and Rolf, not quite worthy of my all-caps but vibrant nonetheless.
On the tamer side of the red carpet (I needed a breather), A Wrinkle in Time's Storm Reid went for a cool all-black cropped two-piece. Grown-ish stars Chloe and Halle are dripping in finesse and sheer, and Australian actor Aisha Dee opted for a simple art-splashed dress.
::Legs turn to jelly and give out::
::Faints::
Okay, I'm back. Disney Channel's Kayla Maisonet also kept it mellow, and actor Allegre Acosta donned interesting lace.
Issa Rae IS JESUS herself!!!!!
Am I dead?
Ah the couples. Here's Kumail Nanjiani and Emily V. Gordon, Luke Cage's Mike Colter and his wife Iva, and David Hasselhoff, looking like a suave Knight Rider, with Hayley Roberts.
Colbie Smulders sported a shimmery candy gown; Natalia Cordova-Buckley from Marvel Agents of S.H.I.E.L.D., Olivia Holt, and French actor Pom Klementieff came 'cause they knew they'd have a good time because it'd be weird and bad if they all showed up in traditional African attire.
Winding down now... Amber Riley looks fresh in silver floral, Disney's Angel Parker (It's Disney and Marvel, so the Disney people came out) wore sequined block and fringe, Garcelle Beauvais kept it smooth in a simple pants suit, and Luke Cage actor Simone Missick rocked enchanting satin.
Lena Waithe does the red carpet her way and I love it. Janelle Monáe stuck with her signature black-and-white and masters it again, though lately she's been adding luscious drops of color. Tessa Thompson is in lacy Elie Saab.
TURN DOWN FOR WHAT?!!!!!
Young actor Seth Carr is an absolute doll in this mustard blazer. LEARN SOMETHING FROM HIM, adult men on the red carpet. Forest Whitaker just wanted to have a chill Sunday night and relax, man... But Black Panther director Ryan Coogler knew he had to show out and look kingly. Thanks for BLESSING us.
Lupita Nyong'o, Usher and Tessa Thompson are like, "Are y'all ready for this movie? lol."