Desus and Mero opted for a Bronx family reunion for the Thursday premiere of their new late night show. Representative Alexandria Ocasio-Cortez was the first guest on the duo's new Showtime gig, and the Bronx natives discussed Twitter trolls, the Green New Deal, and that 70 percent marginal tax rate.
Desus led the crowd in an "AOC" chant, which Ocasio-Cortez admitted she still isn't used to. "If Trumpito wouldn't have finessed the country and became president, would you have run for Congress?" Mero asked.
"I don't know!" Ocasio-Cortez responded. "I could just be teaching in high school right now."
The conversation later switched over to Twitter trolls, which Ocasio-Cortez says give her validation that she's doing something right. "If you're just flying under the radar, just trying to get your check, not rock the boat, then what's the point of being in politics?" said Ocasio-Cortez. "Like, what is the point in doing things if you're just trying to maintain the status quo that doesn't help people?"
G/O Media may get a commission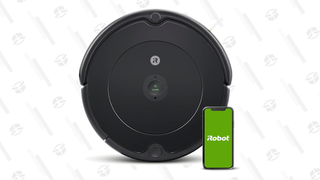 35% Off Black Friday Deal
iRobot Roomba 694 Robot Vacuum
And when Desus and Mero clowned the bad "MS Paint" memes about her, Ocasio-Cortez didn't hesitate to join in: "How do you have a computer that runs both Windows 95 and Twitter at the same time?"
After discussing the Green New Deal and what regular people can do to reduce their carbon footprint, the focus turned to Ocasio-Cortez's 70 percent marginal tax rate proposal, which seems to make every conservative's head explode in recent weeks.
"If you make more than 10 million in one year, your ten millionth dollar gets taxed at 70 percent," Ocasio-Cortez explained, for what was probably the billionth time. "By the way—we used to have marginal tax rates under Republican presidents of 90 percent, and it is when we experienced some of the highest rates of economic growth in the United States."
Desus expressed some skepticism.
"It really comes down to the question, isn't $10 million enough?" asked Ocasio-Cortez. "Like, when does it stop? At what point is it immoral that we're building Jeff Bezos a helipad when we have the most amount of homeless people in New York City?"
Yeah, fuck that helipad.
The show then transitioned to pre-filmed segment of Desus and Mero hitting up Ocasio-Cortez at her new D.C. office. Fellow freshmen congresswomen Ilhan Omar and Rashida Tlaib make guest appearances.
Yerrrrrr!