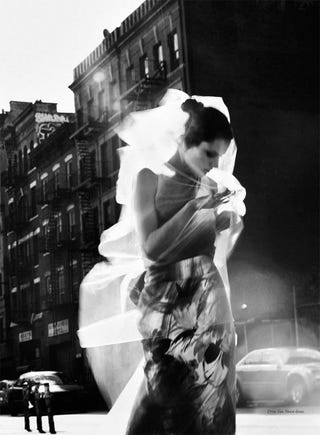 Russh's August-September issue serves up 18 pages of Alessandra Ambrosio wandering around New York City. If this is what it looks like when Victoria's Secret girls go high-end, more please!
Ambrosio, shot by Will Davidson and styled by Stevie Dance, spends most of the editorial looking like a banshee swaddled in chiffon.

And boy, can that girl move.

She'll throw her scarf in the air like she just don't care.

And wander the city in a translucent bubble of organza.

So what if she looks a little...unhinged...as the story develops? Fashion's obsession with women who could be on the verge of nervous breakdowns isn't really new, but rarely is it carried off with such strange and powerful grace. Rather than seeming like a victim, or a play-actor, Ambrosio is depicted as if she's off in a reverie of her own, one that's simply more compelling than the world we take for "reality."

She's not even wearing shoes, in the middle of the city. Awesome.

For purposes of comparison, this is what Ambrosio looks like when she dons her full Angel regalia.

It's like she's been set loose.
Alessandra Ambrosio for Russh 35 by Will Davidson [Fashion Gone Rogue]