When I first heard about the Air Sex Championships - yes, mimed sex - I thought it an awesome-sounding evening outing: interesting people, some costumed, writhing in fake ecstasy for quasi-fame and no fortune. Then organizers asked me to judge.
Last Friday night, I sat for two hours at New York's Highline Ballroom with three other judges (Victoria Zdorak, Penthouse advice columnist), Coney Island Circus performer Heather Holliday and emcee Joel Keith) and watched people pretend-fuck. Thankfully, the pictures are finally in. We were asked to judge 12 acts on their performances — 8 female, and 4 male acts. Each contestant got a song of his or her choice, wasn't allowed to get naked and was judged on his or her performance in terms of pantomime itself and "sex" skills. Although Joel Keith managed to capture most of the performers on camera, I'll admit we're missing pictures of the 3-woman act "Ode to New Zealand," who pantomimed copulating with (and then eviscerating) a sheep and "Backseat Betty," who gave a decently realistic (and impromptu!) performance of bad sex in a car.
Interestingly, most of the men went for the funny bone while the women went for a combination of comedy, titillation and absurdity. After the show, I asked a male friend what he thought. He agreed with me that the comedy bits were far more worthy of praise than the ones designed to arouse the crowd, likening the whole thing to karaoke: "The thing I hate about karaoke is going in there and someone is trying to nail a Mariah Carey song like they're about to be discovered," he said. "I'd rather watch a drunk guy sing the Spice Girls." Luckily, at this event, there were far more drunk guys singing the Spice Girls.



"Dirty Dean" took the stage after the Kiwis and Betty, complete with a manservant to spirit away his bathrobe, revealing a classic American flag banana hammock and rather muscular rear. He then proceeded to have a rather athletic three-way with two imaginary women (the judges counted 4, but apparently the two just moved around a lot). The pornstache is really what did it for us.



G/O Media may get a commission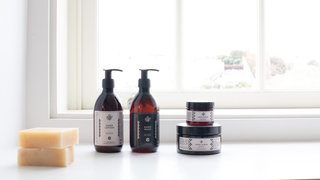 Exfoliate and Hydrate
The Handmade Soap Company
Professor Longhair was up next, and she, apparently, had a lot of education to impart. Though I thought she was bringing a vibrator into her lovemaking, she schooled me that she was just trying to get her lover to understand that clitoral stimulation during penetrative sex is important. Service-y!



Bjorn To Fuck (his chest says "Will Fük For Money) was the paid gigolo of the evening, pleasuring 4 women in succession — including one lady of size — before lining them atop one another and demonstrating his multitasking skills. He was also skilled in the BDSM arts, which he proved by removing his belt and flogging his imaginary 3rd partner, after which he briefly asphyxiated himself. He was an even more skillful flirt, which he proved by sitting atop the judges' table and handing his belt-leash to a colleague during the Tribunal.



Heir to the Throne channelled one of my exes with a soulful performance to Tenacious D's "Fuck Her Gently." He ended his performance by schtupping the shit out of the judges' table and wiping his air cock with my real hair. (He made the finals.)



Dynamite Devotion was one of several who signed up to perform on-site, and she was by far the best. Her act: receiving and accepting a booty call in the middle of the night, demanding that her lover go down on her, and then riding that imaginary man to ecstasy...all in all, a commanding performance and display as to how to get the most out of your man.



Sweet Pea took the stage to the strains of Natalie Imbruglia's "Torn," and left the judges and the audience, well, torn. For one, the poor girl had signed up on site without any idea of what she was really getting into. She gave what might most kindly be described as an interpretive dance about the joy of orgasm (truthfully she seemed too nervous and therefore danced around the stage in between 15 second bursts of half-heartedly imitating sex acts).



Bambi Amsterdam strode on stage with a can of seltzer in her hand and a dream in her heart. That dream, apparently, was to imitate female ejaculation and ride the attendant ottoman to apparent ecstasy. But given how much her hands were down her pants, the judges were forced to wonder if the ecstasy was really imitated... and then she, flushed, declared to us that she'd had a damn good time and stomped off.



Slut Truffle followed Bambi's abdication with a performance of an increasingly frustrated woman who finally resorts to actual power tools to get the sparks she's looking for — but only after she tries a real man, a vibrator, and a 12" long suction cup dildo. No one was hurt in the achievement of her orgasm — not even the audience, which was showered in sparks. Unsurprisingly, we voted her into the finals.



Ursher both stole my chair and the hearts of the judges with his extremely clever pantomime of the busy businessman who needs to get his rocks off with a sex worker in between cell phone calls. He was the only car-themed act to get right which side Americans drive on, he successfully parallel parked and even used protection. He, too, made the finals.



The final act of the evening, Beya, was another on-site sign up who imitated bad sex (men of New York: you really need to step up, here) but left the judges wondering exactly what was going on — other than when she imitated sex from the side.



For the final round, Heir to the Throne, Slut Truffle and Ursher had to improvise a 2-minute performance to a song of the producers' choosing. That song was, of course, the theme to the movie Superman. Heir to the Throne gave a soulful performance that built to a rocking crescendo in which he appeared to be about to surf into the crowd.



Slut Truffle proved to be quite the prop mistress, bringing out her cock panties for her performance of a transwoman rescued and then seduced by Superman. She turned out to be quite the persuasive lover, however, first convincing Superman to penetrate her anally and then convincing him to switch for both their pleasures.



Ursher, however, took the prize with his performance of a man who enters the bathroom and ends up first blowing and then being penetrated by the bathroom's other occupant, complete with the use of hand soap as a lubricant and — again — an adherence to a safe sex regimen that would make my high school health teacher proud. It was the kind of performance where you thought he just couldn't top himself — and then he did.

Air Sex: The One Time That "Faking It" Is Encouraged
[Photos via Joel Keith]