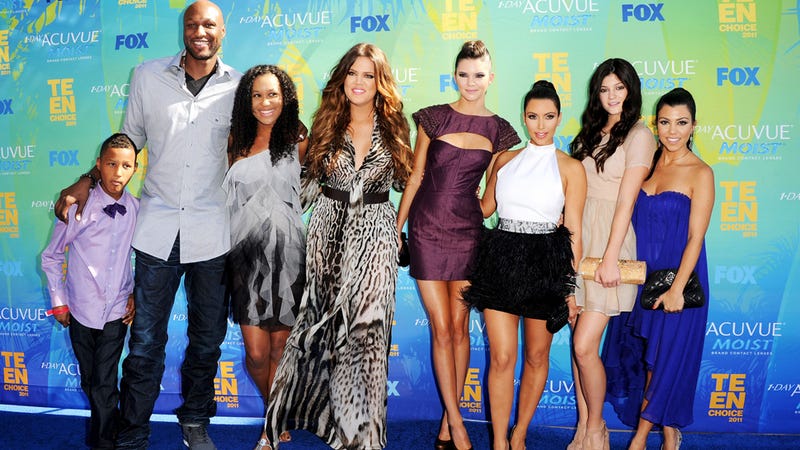 It's not that some people were dressed inappropriately for their own age, but rather were dressed inappropriately for the event itself — a kid's award show — with their tits and cooters hanging out.
It's a reference I use pretty often, but seriously, Alexa Vega is totally Valerie Cherish with her dress on backward.
Raven-Symoné (right) is on the other end of the spectrum when it comes to age inappropriateness. I always forget that she's only 25. Doesn't she seem like she should be at that stage in her life where she's getting her groove back or something? And between Cassie Scerbo (left) and Megan Park (center), Megan is working the LBD much better, simply because her legs don't look like they're sitting shiva.
Let's talk shoes: Avril Lavigne's are just as gimmicky as she is.
I feel bad making fun of someone who's only 14 (psych! not really) but Stephanie Scott has some Etsy-ugly type heels on. The embellishments are frayed!
Grace Phipps, though, wins the ugliest footwear award. As the Countess LuAnn would say, "Even Louis Vuitton makes mistakes." But I'm actually not sure who made these particular mistakes.
Taylor Swift looks cute. I guess it's enough that she didn't wear another champagne-colored dress.
Of the Kardashian girls, Khloe's long-sleeved, cinched muumuu is my personal fave.
I appreciate the showmanship of Jason Derulo's tux, but I will remain eternally confused as to why Joe Jonas has so much hair between his eyebrows but none on his chest. It's like he only pubed halfway. Remember when The Miz would be on Real World/Road Rules Challenges, trying to use the competition-based reality show platform as a jumping off point to make it into the WWE? I'm kinda proud of him that he achieved his dreams.
Urban lesbian prom.
Odds are that at least one of the tails of these three women—Kat Graham, Selena Gomez, and Demi Lovato—was accidentally dipped into the toilet at some point in the evening.
I'm super into the Judy Jetson vibe that sisters Destinee and Paris Monroe are working with. I'm also super into the fact that Rebecca Black remains kinda awkward — don't let fame change you! And Holland Roden's dress, while a pretty color, is way too fucking short.
Zoe Saldana (doing the disco thing), Troian Bellisario and Kaley Cuoco (doing the pretty princess thing) were some of the few who went with a below-the-knee length.
While Ashley Benson and Fivel Stewart are managing to pull off their trippy patterns successfully, Fergie looks like an 8-year-old's bedroom wallpaper.
Leather was a risky choice for August, but Blake Lively looks incredibly chic. As for Tyra, are we going to be continually subjected to her wearing superhero costumes while she tries to shove those children's books down our throats? And then there's Mary Murphy. It's kind of a shame that cows had to die for that, you know?