Love is real and broken hearts do mend, and if you need proof, simply look to Florida Democratic Congressman Alan Grayson.
Last May, the Congressman was embroiled in a messy divorce with his wife of 24 years, whom he accused of bigamy and called a "gold digger." This year, he's just married a candidate running to replace him in the 9th Congressional District. Aw!
Grayson accused his then-wife Lolita of bigamy during their divorce proceedings, which were infamously delayed when one of her breast implants sprang a leak. Lolita, meanwhile, accused Alan Grayson of neglect, saying he'd cut off much of her financial access and abandoned her and their four children in a house filled with mold. A judge annulled the Graysons' marriage in July 2015. Alan Grayson's attorney said at the time that the annulment was an important distinction, since "substantial assets" were involved and an annulment wouldn't entitle Lolita to any of them. Alan Grayson is worth an estimated $30 million, making him one of the richest people in Congress.
But Grayson now has his sights set on the Senate, billing himself as a "candidate with guts".
Meanwhile, a physician and biochemist named Dena Minning began running for Grayson's current seat; reports inevitably noted that she was a political newcomer and the rumored girlfriend of Grayson. Minning granted few interviews at the time, and Politico says both she and Grayson refused to comment on their rumored involvement.
G/O Media may get a commission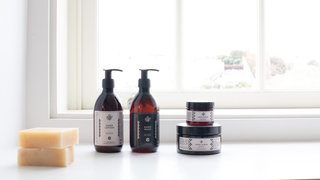 Exfoliate and Hydrate
The Handmade Soap Company
The happy couple announced their surprise wedding the new-school way: with Minning changing her name on Facebook and Twitter. Her old Twitter account now links to her new one, and her new Facebook profile picture features her "handsome, brilliant and amazing" husband. Who, again, currently occupies the job she would like.
Congratulations to the happy couple and their pursuit of a mutually satisfying position; may their love never be dimmed by allegations of abandonment, neglect, bigamy or wayward implants.
---
Alan Grayson at a news conference in October 2015. Photo via AP