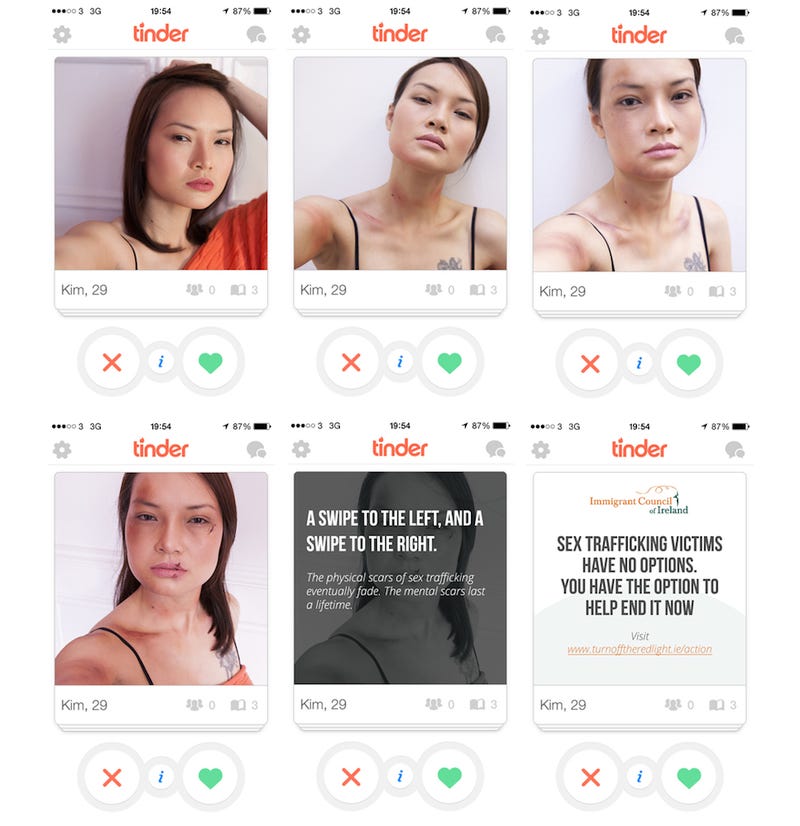 Tinder users in Ireland may be in for a bit of a surprise the next time they swipe through potential hookups. As part of a sex trafficking awareness campaign, an advertising agency has dropped in a few Tinder profiles of models portraying sex trafficking victims.
Each fake profile features six images. The first appears to be a "normal" picture of a woman, but with each picture, a tragic story unfolds. In one profile (pictured above), "Kim" sports more and more bruises on her face—In another, "Ana" is shown at what appears on a couch, then between two men, then with her hand forced behind her back. For all the fake profiles, the last two pictures are dedicated to sex trafficking issues and the Turn Off the Red Light campaign, which aims to end prostitution (criminalizing the purchase of sex and decriminalizing the selling of sex) and sex trafficking in Ireland.
The Tinder campaign was created by Eighty Twenty, an Irish ad agency in partnership with the Immigrant Council of Ireland. The chief executive of the Immigrant Council, Denise Charlton praised the campaign, saying:
"Sex trafficking is one of the most lucrative crimes with the sums involved on a par with those for drug smuggling and gun running, yet many people are not aware that it is a reality in communities right across Ireland. The Immigrant Council of Ireland is committed to using every possible opportunity to increase awareness about the activities of the thugs behind these crimes and the impact on their victims.
It is important that men of all ages who buy sex are made aware of the consequences of their actions. We are delighted to partner with the team at eightytwenty to bring this important message to an audience which is difficult to reach through traditional media."
It's certainly an interesting and possibly controversial approach to use a dating app to spread awareness about sex trafficking, but at the same time, the internet has become one of the main battlegrounds for the sex trafficking industry.
Image via Eighty Twenty.