Why do we tolerate — and, in many cases, celebrate — when celebrity women cheat on their husbands. Think about it: When was the last time a woman got dragged through the mud for cheating?
Inductees to the men's hall of shame include Tiger Woods, Jesse James, Charlie Sheen, Mark Sanford, John Edwards, Eliot Spitzer, and any number of Republican congressmen who have an affinity for boys. But where are the gals expressing their sexuality in equally twisted ways? Do men have a complete monopoly on bad behavior, or do we just view female transgressions through a different lens?
I realize there are still countries were women who cheat on their husbands are sentenced to death by stoning, and that the religious myth of female virginity as a moral test has, in some quarters, persisted despite many advances in the fight for women's equality. I'm not about to question the outrageously sexist assumptions and brutal realities that lead to the virginity myth and the stoning of female adulterers. But I do want to question the standard by which Americans judge adultery in popular culture.
In my personal life, I know of more women who have cheated on their husbands than men who have strayed. I've had to sit for hours with a close friend dealing with the shattering consequences of learning his wife had lied to him about an affair (and not for the first time). The women have their reasons, which include taking charge of the one thing (their bodies) that they can use to get back at a husband who they feel has wronged them. I don't believe you can judge a marriage from the outside; all you can do is be a good friend to those you care about.
♦◊♦
But still, I wonder: why do we have a national obsession with men's infidelity? Is it some kind of backlash, a hidden gender war buried in our collective subconscious? I just don't get it, and it's beginning to piss me off.
G/O Media may get a commission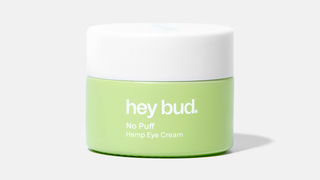 15% off
Hey Bud - No Puff Hemp Eye Cream
LeAnn Rimes, Anne Heche, Tori Spelling, Jennifer Lopez … None of these women has been blackballed for her behavior. Does anyone care?
What follows is a list of just a few female celebs who have cheated: LeAnn Rimes reportedly cheated on her husband of seven years, Dean Sheremet cheated with married actor Eddie Cibrian. Tori Spelling cheated on her then-husband, Charlie Shanian, with Canadian actor Dean McDermott, who was also married. Anne Heche reportedly cheated on her then-girlfriend, Ellen DeGeneres, with a cameraman. (She later married that same cameraman and had his child.) Heche then supposedly cheated on him with and left him for her Men in Trees co-star, James Tupper. Jennifer Lopez supposedly began having an affair with Ben Affleck while she was still married to her former backup dancer. I won't go through the list of switches that culminated in her current marriage to Marc Anthony.
But none of these women has been vilified for her behavior. Does anyone care?
♦◊♦
There's a book about a suburban woman in a six-year marriage to a nice fella-a marriage that just doesn't feel right. She hits an existential, spiritual, and creative wall. She also meets and becomes infatuated with-to the point of addiction-a little eye candy.
I'm talking, of course, about Elizabeth Gilbert's Eat, Pray, Love, which started out with a modest, 30,000-copy hardcover printing and has gone on to sell more paperback copies than any memoir in recent memory.
"I moved right in with David after I left my husband," Gilbert tells us at the start of the book. "He was-is-a gorgeous young man. A born New Yorker, an actor and writer, with those brown liquid-center Italian eyes that have always (have I already mentioned this?) unstitched me. Street-smart, independent, vegetarian, foulmouthed, spiritual, seductive. A rebel poet-Yogi from Yonkers. God's own sexy rookie shortstop. Bigger than life. Bigger than big. Or at least he was to me."
Man! No wonder they had to recruit James Franco for the role.
Gilbert goes on, talking about her sexual obsession in language that's reminiscent of Tiger Woods' first post-golf-club-to-the-head press conference.
LeAnn Rimes, Anne Heche, Tori Spelling, Jennifer Lopez … None of these women has been blackballed for her behavior. Does anyone care?

The fact is, I had become addicted to David (in my defense, he had fostered this, being something of a "man-fatale"), and now that his attention was wavering, I was suffering the easily foreseeable consequences. Addiction is the hallmark of every infatuation-based love story. It all begins when the object of your adoration bestows upon you a heady, hallucinogenic dose of something you never even dare admit that you wanted-an emotional speedball, perhaps, of thunderous love and roiling excitement. Soon you start craving that intense attention, with the hungry obsession of any junkie. When the drug is withheld, you promptly turn sick, crazy, depleted (not to mention resentful of the dealer who encouraged this addiction in the first place but who now refuses to pony up the good stuff anymore-despite the fact that you know he has it hidden somewhere, goddamn it, because he used to give it to you for free). Next stage finds you skinny and shaking in a corner, certain only that you would sell your soul or rob your neighbors just to have that thing even one more time.
A few pages later, Gilbert sums up her sexual fixation: "David was catnip and kryptonite to me." After that, the author takes us on a year of adventure and renewal, as the book's subtitle-"One Woman's Search for Everything Across Italy, India, and Indonesia"-promises.
Let me get one thing straight here: I don't blame or criticize Elizabeth Gilbert. She wrote a nice little confessional about being a cheater and trying to find herself by traveling the world. My own opinion of her writing (not great) is beside the point. The issue here is how this book-about female adultery and sexual addiction that turned into a shallow search for self-became a national bestseller. And we all give her a free pass about the premise (the cheating part). Or do we?
♦◊♦
In 2007, Jezebel published a piece titled "Did Eat, Pray, Love Sell Millions Because Elizabeth Gilbert Cheated on Her Husband?" The piece hit the point I'm trying to make here, at least with the headline. Far from judging the female cheater, readers by the millions root for her. With the incessant headlines of guys behaving badly, the fact that the whole premise of a book could be about a woman behaving badly, admitting it openly, and then going on a grand spiritual journey to fix herself is a breath of fresh air. We skip right past the behaving badly part and suck up the escape fantasy as an elixir for all that is wrong with the world.
That, in a nutshell, is what pisses me off. It's hypocritical and a double standard. What would happen if the genders were reversed? A guy cheats on his wife of six years because he just isn't that into her anymore. His mistress is some much younger actress with eyes the size of saucers. But she dumps his ass eventually, setting him on a year of eating, praying, and loving as the solution to his sexual addiction.
Man isn't the only gender that cheats. Last time I checked, heterosexual sex requires a man and a woman to work properly.
Just imagine, for instance, if Mark Sanford, the former governor of South Carolina, decided to write a tell-all book about leaving his wife in favor of his South American mistress, including his trips to Argentina to enjoy the cultural delights and the food of the faraway land. That book might, in fact, sell-but not for the same reasons that Eat, Pray, Love spent 57 weeks atop The New York Times bestseller list. Mark Sanford as memoirist wouldn't be celebrated as the guy who has reached into our collective souls and spoken to our deepest desires as men. No, Sanford would still be in the headlines as yet another example of manhood gone desperately wrong.
♦◊♦
I realize that the popularity of Gilbert's book is due to the fact that women want revenge for perceived wrongs. She did to the guys in her life what so many women have had to endure. I get it. But the question remains: Does that make it right? Men aren't the only ones who cheat. Many married women cheat, and any woman sleeping with a married man is, in my view, equally culpable. So again, why the beating of the drum about men-as-scumbags?
I'm not expecting our culture to stop obsessing over men's infidelity anytime soon. But I would ask that you consider, for one moment, that we obsess about men being good, rather than bad, once in a while. The pass we give female adulterers-as a reaction to the implicit assumption that men are the real cheaters-is a sign of how far we have to go in that direction.
Tom Matlack is just foolish enough to believe he is a decent man. He has a 16-year-old daughter and 14- and 5-year-old sons. His wife, Elena, is the love of his life. You can find more of Tom's Good Is Good columns here.
This post originally appeared at The Good Men Project. Republished with permission.
Want to see your work here? Email us!