This week, 281 smartie pantses (I'm sure one of them knows how to properly pluralize that) between the ages of 8 and 15 from across the country competed in the rounds leading up to the finals of the Scripps National Spelling Bee. Here are some of their adorable, smart faces.
Semifinals of the bee were held today in the Washington, DC area. According to the Scripps website, the youngest contestant is 8-year-old South Carolina second grader Hussain Godhrawhala. Most contestants are between 12 and 14, nearly half speak more than one language, and more than half of the contestants are girls. Hooray for spelling!
Sai Vishudhi Chandrasekhar of Flushing, N.Y (AP)
G/O Media may get a commission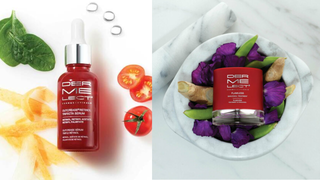 Save $19
Retinol Renewal Kit
Jacob Daniel Williamson of Cape Coral, Florida (Getty)
Alexandra Harper, of Guayama, Puerto Rico (AP)
Ed Horan of Hoboken, N.J. (AP)
Jae Canetti, 12, of Fairfax, Va (AP)
Jennifer M. Tennant, 13, of Father Andrew White S.J. School, Leonardtown, Md. (AP)
Eighth grader Chythanya Murali, 13, of LISA Academy West, Little Rock, Ark (AP)
Tajaun Gibbison of Mandeville, Jamaica; Dylan O'Connor of Alexandria Bay, New York; Tea Freedman Susskind of Redmond, Washington; and Ankita Vadiala of Manassas, Virginia celebrate after advancing to the semifinals (Getty)
Shayley Grace Martin of Virginia reacts after spelling a word correctly.
Amber Robinson of Miami, FL (AP)
Madeline Rickert of Minot, North Dakota/ heretofore power animal to all.
Finals air tonight live on ESPN at 8 PM EST.