An actress has filed a lawsuit earlier this week against Time Warner, HBO, Cinemax, and production company True Crime LLC, alleging she was bullied and intimidated into performing nude scenes and simulating intercourse, sexually harassed, and placed in a dangerous work environment that violated AFTRA union regulations. What has many people scratching their heads is how the actress—identified only as "Anne G" in court documents—didn't realize that a principal performer on Cinemax's late-night programming would be required to take off her clothes. The network is, after all, colloquially referred to as "Skinemax."
In the suit, the plaintiff claims that on the first day of shooting she was:
[B]lindsided with rewrite after rewrite which necessitated her character to simulate sexual intercourse and for her to appear nude but for pasties on her nipples and a sticker on her private parts, without the proper health and safety protections in place or a set that was closed except for essential production crew.
The last charge, if true, is in direct violation of AFTRA union regulations.
While the suit doesn't name the show in question, Anne G's attorney told The Hollywood Reporter that she was hired for a single episode, "Jail Break," of the second season of Cinemax's Femme Fatales. The actress claims that she was not informed, until the first day of shooting, that nudity or sex scenes would be involved. She says that she was told on set that if she did not "perform as requested, her contract allowed producers to sue her for $100,000 for being in breach of contract," leading her to perform "under the duress and threat of significant pecuniary retribution if she did not comply," although she ended up leaving production before filming had completed
G/O Media may get a commission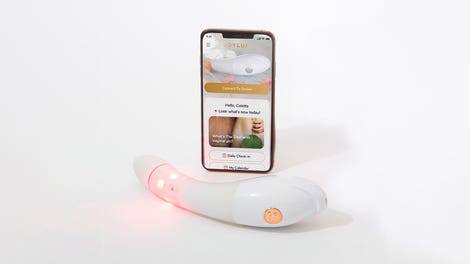 $50 Off
Joylux vFit Gold Device
Anne G's contract was not included in the court documents that were filed, so the veracity of her claims of "bait and switch" casting remains unknown. But it seems odd that somebody would take a lead role on a show that had already established in its first season that it was soft-core porn. However, even if she had been aware of nudity being a requirement, that might not matter if her claims about the violation of union rules are true.
Multiple union rules and regulations [that] were violated, including but not limited to, the requirement to have a closed set when performers are required to be semi-nude or naked, the requirement to have fully functioning and properly fitted pasties over private parts, the requirement to provide the performer with the ability to be made aware of in writing and in sufficient detail to [sic] any script changes which require explicit nudity and depiction of sexual intercourse and the obligation of Defendants to fully disclose in writing the extent to which they are requesting the performer to engage in nudity and sexual content[,] thus allowing the performer an opportunity to consent or not to consent.
Additionally, the plaintiff says she was made to "perform a scene depicting aggressive sexual intercourse with a male performer while she was topless with a pasty on her vagina and nothing more than a sock on the male performer's private parts," but during the scene, the male performer's mouth began to bleed, getting blood on the plaintiff's face. She says that when she alerted production to the situation, they insisted that she not stop the scene and let her clean up, causing her to "obtain [an STD test] as a precautionary measure independent of any concern or assistance from defendants."
Image via zimmytws/Shutterstock
Actress Sues Cinemax After Being 'Blindsided' by Sex Scenes [THR]
Actress Sues 'Skinemax' for Requiring Late Night Nudity [AVN]