Visit msnbc.com for breaking news, world news, and news about the economy
In the sad history of violence against abortion providers, few places are more resonant than Wichita, Kansas, which currently has no abortion provider after the murder of Dr. George Tiller in 2009. As we've written, the looming threat of violence is also what's prevented another provider, in Kansas and elsewhere, from being able to rent operating space.
Dr. Mila Means, who is among those trying to fill the vacuum in Wichita and the region, was sued by her landlord when she began training to provide abortions. At first, news organizations reported she would give up her quest to provide the service in Wichita, but now it looks like she's simply looking for another site, so far unsuccessfully. In the meantime, as Ms. reports,
Means has now become the target of an aggressive campaign led by anti-abortion extremists. WANTED-style posters featuring Means' photograph and address are being circulated in Wichita and online, and about a dozen anti-abortion zealots stalked the physician at her rural Wichita home.
Ms.'s parent organization, the Feminist Majority Foundation, has also set up a petition which asks Kansas Attorney General Derek Schmidt and Sedgwick County District Attorney Nola Foulston to take proper steps to protect Means and take seriously the threats against her.
Means has given few interviews, but did speak to The Rachel Maddow show on February 14, as seen above. In the segment, Maddow took a broader look at the connections between extremist groups and actual violence, and repeatedly asked: Regardless of what you think of abortion, is violence how you want this debate to be held in our country?
G/O Media may get a commission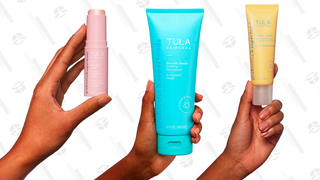 Stop Anti-Abortion Terror In Wichita Before Another Doctor Is Murdered [Petition]
Kansas Abortion Doctor Targeted by Extremists–Sound Familiar? [Ms.]
The Next Abortion Clinic? [KWCH]
Related: Ask An Abortion Provider [The Hairpin]