A former Abercrombie & Fitch employee whom the brand scouted to become a model is now suing over a photo shoot where he says he was directed to masturbate on camera. It's far from the first time Abercrombie has been the target of lawsuits — in recent years it has been fined by the courts for engaging in employee harassment and failing to reasonably accomodate disabled customers, and in 2004 the company settled a $40 million class-action lawsuit for discriminating against black, Latino, and Asian workers (the company decided that people of color, you see, didn't fit the Abercrombie "look") — but this may be the most disgusting sexual harassment allegation yet made against the clothing chain.
Ben Bowers, the former employee in question, claims in the suit that he was scouted by an Abercrombie casting director and referred to a modeling agent named Brian Hilburn. Hilburn flew Bowers to Mississippi for a photo shoot — and then allegedly did a lot of creepy sexual-harassy things, up to and including asking Bowers to masturbate for him.
The suit claims during the June 17, 2011 shoot, Hilburn convinced Benjamine that he needed to display a relaxed look for his modeling portfolio, and the best way of achieving that look was to masturbate in front of the camera, so the photog could capture his expression immediately after orgasm. And for good measure, Hilburn allegedly told him the drill was to do the whole thing in the buff.
Bowers says that after he complied, Hilburn exposed himself and commented on the relative size of their penises. He is suing both Abercrombie and Hilburn for the harassment.
Bowers now works as a model in Los Angeles.
It's not unheard of for sketchy "model agents" and photographers to prey on would-be models, many of whom are adolescents. Earlier this year, three models sued a New York agent who they say lured their parents in with talk of his Christian faith — only to subject them to repeated sexual harassment and groping. And even established agencies have faced serious allegations — including rape and participating in sex-trafficking.
G/O Media may get a commission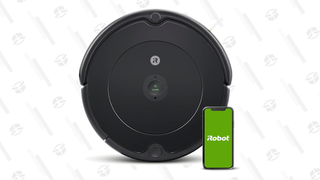 35% Off Black Friday Deal
iRobot Roomba 694 Robot Vacuum
This spring, an organization called the Model Alliance launched (full disclosure: I sit on the board). It offers free and totally confidential advice to models who have been the victim of sexual harassment or other offenses.