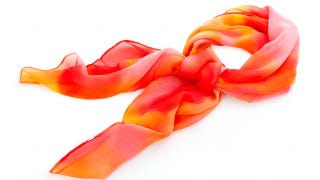 Clothing retailer Abercrombie & Fitch is getting quite the reputation.
They've attempted to sell padded bikini tops to kids, discriminated against people with disabilities, and now they're being sued for firing a former employee who refused to remove her headscarf.
The woman, who has not been identified, is a Muslim, and "she was told that her headscarf, though worn based on a religious mandate, was not in compliance with the company's 'look policy,'" said those representing her in the lawsuit. She worked at Hollister Co., a subsidiary of Abercrombie & Fitch, in 2009 and 2010.

Some Muslim traditions require that women wear the headscarf, or hijab, when out in public.

Her case has been taken up by the Legal Aid Society of San Francisco - Employment Law Center, a group that works to defend the rights of the socially disadvantaged. Christopher Herrera, a spokesman for the group, said the case "came to us through the Council on American-Islamic Relations. They know that we work with employment issues and with discrimination issues regarding employment."
This lawsuit is being filed in conjunction with an additional suit filed by the U.S. Equal Employment Opportunity Commission.
Both parties have also issued a press release stating:
"The plaintiff worked for Hollister Co., a brand of Abercrombie & Fitch, for several months in 2009-10 while wearing a hijab. In February 2010, she was terminated from her position as a stockroom employee after refusing to remove her scarf."
I suppose Abercrombie & Fitch has been able to find enough workers who fit the guidelines contained in their 'look policy', so what incentive do they have to change it? I can't say for sure, but you'd think "limiting the amount of lawsuits" would be a pretty good reason.
Abercrombie & Fitch Sued Over Headscarf Firing [San Mateo Patch]