Just in case their racism, sexism, and general awfulness hasn't been enough to turn you away from Abercrombie & Fitch after all these years, here's another glimpse of the inner workings of the horrible store.
Ana Gasteyer Satirizes the Girl Boss in 'American Auto'
When I previously (and gleefully) wrote about the economic troubles that Abercrombie was having a few months back, I mentioned that my personal hatred for the store comes from the fact that one of the women I was in the intensive inpatient unit with during my treatment for anorexia was heavily recruited by the store just days before her hospitalization (she was incredibly underweight) because she had "the look" they wanted. Turns out that this horrific "look policy" doesn't just revolve around being stick-thin; according to Riam Dean, she was forced to work in the stockroom, as opposed to on the floor, at Abercrombie's London flagship store because her prosthetic arm didn't fit the company's attractiveness standards. You stay classy, Abercrombie!
When Riam applied to the store, they took a photograph of her and gave her a handbook that listed the company's expectations, as far as physical appearance goes. According to the Daily Mail, the handbook "stipulates that staff must represent a 'natural, classic American style' and instructs them on everything from how to wear their hair (clean and natural) to how long they should wear their nails (a quarter of an inch past the end of the finger)." Apparently, Riam's prosthetic arm wasn't "natural" or "classic" enough for the store- they made her buy a cardigan to wear in order to hide her arms while working.
G/O Media may get a commission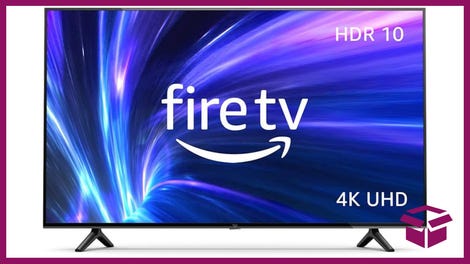 42% Off
Amazon Fire TV 50" 4K Smart TV
The cardigan, however, wasn't enough to satisfy the Abercrombie team. As Riam recalls:
"A worker from what they call the "visual team", people who are employed to go round making sure the shop and its staff look up to scratch, came up to me and demanded I take the cardigan off. I told her, yet again, that I had been given special permission to wear it. A few minutes later my manager came over to me and said: "I can't have you on the shop floor as you are breaking the Look Policy. Go to the stockroom immediately and I'll get someone to replace you. I pride myself on being quite a confident girl but I had never experienced prejudice like that before and it made me feel utterly worthless. Afterwards I telephoned the company's head office where a member of staff asked whether I was willing to work in the stockroom until the winter uniform arrived. That was the final straw. I just couldn't go back."
She is now suing the company, which, by the way, already paid 2.2 million dollars to employees who felt that that the company was unfairly forcing them to buy Abercrombie's clothes in 2003. Oh, and did I mention they paid a 40 million dollar settlement in 2004, after being accused of discriminatory employment practices? Because they did! This is a company that continues to be called out for their sexist, racist, discriminatory practices, and by issuing half-ass apologies and paying off their accusers, they expect us to forget the nastiness at the core of this operation. Sadly, all of this only makes Riam's story as unsurprising as it is upsetting.
I Was Banished To The Stockroom [DailyMail]
Abercrombie & Fitch To Pay 40 M To Settle Bias Case [USAToday]
Employees Win Dress Code Lawsuit [CBSNews]
Earlier: Finally Teens Don't Like, Or Want To Be, Girls Who Wear Abercrombie And Fitch