The Cut has side-by-side comparisons of unretouched paparazzi shots from a recent Victoria's Secret shoot featuring Candice Swanepoel — and the airbrushed versions that ran in the chain's catalog. While the swimsuits are different, indicating these were from different shoots, what allows for comparison is that the posing is virtually identical (that swimsuit modeling relies heavily on the same three poses should be news to nobody who's ever taken a gander at VS's advertising). Is anyone even slightly surprised that Swanepoel looks great without the help of Photoshop? The changes Victoria's Secret does make — erasing the crease that occurs when a human body bends sharply at the waist, for example — mostly just serve to make the final image look uncanny. [The Cut]
---
Mario Testino shot Kate Moss and Lara Stone for LOVE magazine, wearing cat ears. [DFR]
---
G/O Media may get a commission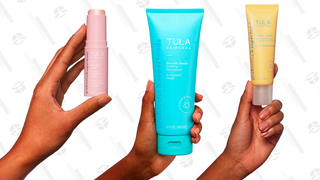 This is what plus-size model padding actually looks like. Models wear it on certain shoots because plus sizes are not uniform. [Fashionista]
---
Karlie Kloss is on the cover of the new Vogue Australia. But, seriously, those fonts? [DFR]
---
Twelve mostly lesser-known Asian models star on individual covers of i-D's new issue, which celebrates the Chinese New Year. [The Cut]
---
Ryan McGinley shot Edun's first campaign. It stars two models and six species of indigenous African butterfly. [WWD]
---
It seems pretty clear that Kristen Stewart is just giving some unseen paparazzo the finger in this shot, but Karl Lagerfeld's presence elevates that totally ordinary event to "fashion news." Bam. [HL]
---
According to the terms of a lawsuit settlement in California, the makers of the Brazilian Blow-out — whose "formaldehyde-free" hair straightening process turned out, after testing, to be more "formaldehyde-laced" — must include cancer warnings on their packaging and pay $600,000 in fines and court fees. [WWD]

Secret political junkie André Leon Talley buttonholed Melissa McCarthy at the SAG Awards and praised her work in Bridesmaids before awkwardly telling her, "You know what's great about you is because of your beautiful super-size and voluptuousness, you cover it up and yet you expose a beautiful inner self-esteem, and I love that." McCarthy replied, "Well, thanks! I love fashion, so it doesn't stop at 10." The Vogue editor agreed. "It doesn't stop! It doesn't stop at 10! I'm not exactly a 2 myself, so it doesn't stop with us, because we love to eat! Right?" Right? [ET]

A new campaign on Facebook called "What's your nude?" wants to draw attention to the fact that in a multi-ethnic world, "nude" doesn't just mean some approximation of white-person beige. A cause close to our own hearts. [Facebook]

David Beckham's H&M underwear collection is being advertised by a ginormous shopping bag bearing his face, which has been placed near London Bridge. This family has a thing for oversized shopping bags: remember Posh's Marc Jacobs ads? [Vogue UK]

Cathy Horyn says she's "not exactly sure" why more stars don't wear couture to the Oscars, but that it probably has to do with the small size of the samples, and the houses' unwillingness to make a whole couture gown without an ironclad pre-commitment from a given star. "The process of picking a dress for the Oscars is a mystery to me," says the Times critic, "and I'm glad no one ever asks me for advice. I'd tell an actress to wear an incredibly simple Yohji Yamamoto dress, something chic but completely under the radar — and, well, even I know that would never fly on the red carpet." CATHY MAKE A YOHJI OSCARS HAPPEN (TILDA?!?) PLZ. KTHANXBAI. [On The Runway]

Tilda Swinton, Frances McDormand, Ryan McGinley, Gina Gershon, Michael Stipe, and Jezebel mascot Waris Ahluwalia were among the guests who fêted artist (and Swinton's partner) Sandro Kopp's new gallery show on Saturday. Kopp painted the portraits of friends who sat for him via Skype. Wes Anderson, who couldn't attend, got a gallery tour via laptop webcam. [WWD]

Both sides in the legal dispute between Macy's, J.C. Penney, and Martha Stewart have agreed to seal certain court filings and documents to keep them private. [WWD]

Marie Claire editor Kyle Anderson — who documents his spending every weekend for The Daily — spent $1,389.90 this weekend, mostly on a $785 Givenchy t-shirt. That brings his running tab since mid-November to $42,193.30. [DFR]

Rachel Roy is launching a new collection of shoes priced at $200-$600. [WWD]

E! noticed the spread on Vera Wang's new Los Angeles home in Harper's Bazaar and did an entire segment on it. Naturally, the channel commented on her "swimsuit body." [Hulu]

The Council of Fashion Designers of America is moving from its Midtown offices to SoHo — which has some designers upset because they see it as yet another indication that the Garment District is being abandoned by its traditional industry. "We are extremely disappointed by the CFDA's decision to leave the Garment Center," says Nanette Lepore. "We only hope this does not signal the end of their previous support for New York City manufacturing and emerging American designers." The CFDA says they simply need more space, and couldn't find it in the Garment District. [WWD]

Former fashion week head Fern Mallis is launching a jewelry line on QVC. Because why not? [WWD]

Gen Art is back again this season. The labels Gemma Kahng, Samantha Pleet, and William Opko have been selected for the New Garde show. [WWD]

Isaac Mizrahi hates your one-shouldered dress. "I wish the one-shoulder [look] would go away. What, have we reverted to caveman times?" [WWD]

And now, a moment with Elizabeth Olsen. Elizabeth: heels or flats?

"I don't like wearing heels. I've had a couple of times now where I feel like by the end of the night, when I'm wearing heels at events, my feet just feel like they're sitting in pools of blood. And it's really awful."