The mother of Adam Lanza, the 20-year-old man police have identified as the gunman in Friday's horrifying massacre at Sandy Hook Elementary School in Newtown, Conn., is quickly becoming an object of media fascination (and thoroughly sensationalized speculation) in the wake of a school shooting that that left 20 children and six adults dead. As the public tries to cope with a senseless, mystifying tragedy, people are starting to wonder: how much we can explain Adam Lanza's propensity for perpetrating violence on such a large scale to his upbringing?
To satisfy this collective curiosity, the Los Angeles Times has been one of many news outlets to offer a very brief sketch of Adam's mother, Nancy Lanza, thought to be her son's first victim in the Friday shooting rampage. According to anecdotal evidence from acquaintances, neighbors, family, and friends, Nancy was hard-pressed to cope with her "brilliant but difficult boy," whom her sister-in-law Marsha Lanza thusly:
Adam, he was … definitely the challenge to the family in that house. Every family has one. I have one. They have one. … But he was a very bright boy, he was smart.
Marsha further explained that Nancy often battled with the school district over her son's education until finally quitting her job, pulling Adam out of school, and educating him herself. Jim Leff, an acquaintance of Nancy Lanza's, wrote on his personal blog that he was initially "put off" by an impression that Nancy was "high-strung," something he eventually attributed to the challenges of coping with her son:
Now that I've been filled in by friends about how difficult her troubled son … was making things for her, I understand that it wasn't that Nancy was overwrought about the trivialities of everyday life, but that she was handling a very difficult situation with uncommon grace.
G/O Media may get a commission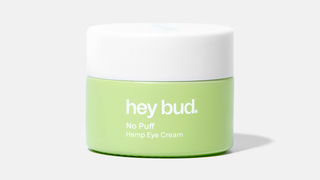 15% off
Hey Bud - No Puff Hemp Eye Cream
Nancy divorced her husband Pete Lanza in 2009 and was awarded enough money in alimony payments that, as the Times explains, she "didn't have to work," and law enforcement officials say that the couple had been ordered to undergo parental counseling (though another source confirmed that this isn't as eyebrow-raising as it seems — counseling is apparently a standard protocol of divorce in Connecticut when a minor child is involved). Perhaps the most lurid detail of this family portrait, however, is the fact that Nancy Lanza, raised in New Hampshire, was extremely comfortable with guns and kept several in the house. Those legally purchased and registered weapons became, after Adam Lanza reportedly tried and failed to purchase a long rifle at a sporting goods store prior to Friday's shooting, the instruments of her son's gruesome crime.
In Connecticut, a mother coped silently with a troubled son [LA Times]