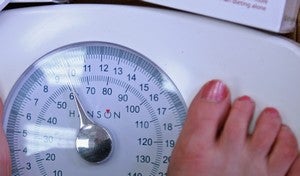 On International No Diet Day came this heart-wrenching account of a teen's death from bulimia.
Nineteen-year-old Sarah Siskin died of a heart arrythmia the same night she told her parents she wanted to enter inpatient treatment and make a plan for recovery from her seven-year battle with bulimia. Every part of her story is tragic, from her older sister's description of hugging her "all bones" body to the journal entries that reveal her feelings of failure. But one of the saddest parts is this account of the aftermath of Sarah's death:
Candles were lit, prayers whispered. The house filled with people, emptied, filled again. Food was everywhere on tables and countertops, on shelves in cabinets, food crammed into every corner of the fridge; food intended for comfort, for healing — everywhere, this reminder of Sarah's insurmountable war.
Sarah's story underscores the need for early detection of eating disorders, for family involvement in treatment, and for all of us to remember that food is nourishing and joyful — not something to wage war against.
Sarah's Death at 19 Left Her Family Struggling to Understand the Power of an Eating Disorder. [Washington Post]